On 21 May 1896, the Guardian reports, "We have to announce, with sincere regret, the death of Madame Clara Schumann, which occurred early yesterday morning, at her residence in Frankfort. For some months the health of the distinguished lady had been in a precarious state, owing to great physical weakness and an affection of the heart, which was ultimately destined to prove fatal. Her daughter, Miss Eugenia Schumann, had been a constant attendant at her bedside, and was with her when she passed peacefully away."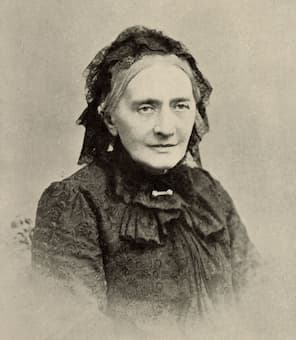 Clara Wieck-Schumann is rightfully considered one of the most talented and distinguished composer-pianists of the 19th Century. In an era when women, apart from singers, almost never performed in public or composed music, Clara did both. Although blessed with outstanding musical talent, character and a sense of mission, her life and career was a "human struggle for self-assertion and survival amidst competition, personal disappointments, devastating sorrow, and the challenges of managing both family and career."
Clara Schumann: Scherzo No. 2 in C minor
A domineering and overbearing father tightly controlled her upbringing. As she once wrote, "My father had to put up with being called a tyrant… It was a blessing for me that he was exceedingly strict, that he reprimanded me when I deserved it and so doing, prevented me from becoming arrogant… At times the rebuke was bitter, but it was still good for me." And we all know about the legal battles between her future husband Robert Schumann and her father, with Clara mercilessly stuck between the warring factions. Robert and Clara did get married one day before her 21st birthday, and the union produced eight children. Clara suffered a devastating loss when Robert succumbed to mental illness, and she was heartbroken when Johannes Brahms metaphorically left her at the altar. And like many mothers throughout the 19th century, Clara suffered almost unimaginable adversity when it came to her children. Her son Emil died after 16 months, and Ludwig manifested symptoms of mental illness from a young age. He was diagnosed with an incurable spinal disease that presumably affected his brain. Her son Ferdinand became a morphine addict and died at the age of 42. Felix died of tuberculosis at the age of 24, and her daughter Julie contracted the same disease and died at the age of 27.
Clara Schumann: Three Romances for Violin and Piano, Op. 22
Proud and dignified, Clara Schumann was forced to bear extraordinary pain and suffering throughout her adult life. Dressed in black and unsmiling she became a "solemn priestess" of the art and devoted herself to her husband's memory and music. She edited, with the help of Johannes Brahms, Schumann's authoritative Gesamtausgabe, prepared an instructive edition of his piano compositions, and arranged and transcribed a number of his piano and vocal work. She tirelessly promoted Robert's music and was not shy in her defense of his reputation. She developed an outright hostility against Franz Liszt, and wrote that Wagner's Tristan und Isolde "was the most repugnant thing she had ever seen or heard in all my life." She was one of very few pianists to perform music from memory, and her playing was characterized by "masterful technique, beautiful tone and poetic spirit." Most significantly, perhaps, was her focus on the composer's text. "In an age of improvisation and embellishments on the score, her piano recitals focused on the composer instead of the virtuoso performer."
Johannes Brahms: Haydn Variations, Op. 56b
In 1878 Clara was appointed teacher of the piano at the Hoch Conservatory in Frankfurt, decisively contributing to the advancement of modern piano playing technique. She was plagued by debilitating joint and shoulder problem in her last years, and Clara played her last public concert in Frankfurt on 12 March 1891, performing Brahms' Variations on a Theme by Hadyn with James Kwast. Clara suffered a devastating stroke on 26 March 1896, and on her deathbed, she apparently asked her grandson Ferdinand to play her husband's F-sharp major romance for her. Brahms had canceled plans for an Italian vacation to wait for news of Clara's improvement and resided in Bad Ischl. He received a telegram from Clara's eldest daughter Marie on 20 May 1896, which read, "Our mother fell gently asleep today." Brahms traveled for 40 hours to reach Bonn, but "he was physically incapable of taking part in Clara's funeral procession. He hid behind some large funeral wreaths and sobbed uncontrollably." Speaking to friends after the funeral Brahms said, "I have buried today the only person whom I truly loved." Clara Schumann is buried at the Old Cemetery in Bonn, together with her husband.
For more of the best in classical music, sign up to our E-Newsletter
Robert Schumann: Romance, Op.28 No. 2 in F sharp Major