On 13 February 1882 in Podgórze, near Kraków, Salomea (Salcia) Friedman (Freudmann) gave birth to her son Solomon Isaac (Ignacy). She had already suffered six miscarriages and stillbirths before giving birth, and she had married the father Nachman Wolf (Wolko) only after the man she had hoped to marry had turned her down. Salomea worked as a seamstress and Wolf played violin, clarinet, and piano with both local and traveling orchestras.
The Musically Talented Infant
Ignacz Friedman's mother, much later in life, wrote down a brief biography of her son. She writes, "When still a baby, being a ten-month-old infant, he revealed the gift of an unusually keen ear…When he was three years old I took him to a kindergarten, and every day he used to come home with a new song, which, according to his father, he sang very correctly. Sometimes his father would take his violin or clarinet and play the tune in a different key, to see whether little Ignacy could follow it; the boy changed the tonality to match his father's instrument. We left for America when my son was four years and six months old, but we saw that our stay served no purpose, and we decided to return to Kraków."
Ignaz Friedman Plays Chopin's Mazurkas (selection)
Early Music Education
At the age of six, Ignaz started piano lessons, and he proved to be an unusually gifted student both at school and in his piano studies. Initially, Signor Specolo, a graduate of the Conservatory in Rome, coached Ignaz but soon the family was again on the move, this time to Budapest. Ignaz was nine years old when he passed his entrance examination for the Academy of Music, however, as his father was unable to find employment, the family returned to Kraków. He started taking private lessons with Flora Grzywinska, "who took care of him like a good mother. Everything she knew she passed on to him." Little is known about Grzywinska, who had prepared Severin Eisenberger for a distinguished career a few years earlier. Friedman credited her with "developing his extraordinary technique, and for venturing beyond the piano literature to teach him masterpieces in all genres." Apparently, she introduced the eight-year-old boy to Bach's Well-Tempered Clavier, and "he was able to transpose the fugues at sight." He undertook his first tour with his father throughout Poland and the Balkans, and recalled, "My father, who accompanied me with a small but very wretched orchestra, lost what little money he had managed to save."
Ludwig van Beethoven: Piano Sonata No. 14 in C-Sharp Minor, Op. 27, No. 2, "Moonlight" (Ignaz Friedman, piano)

Reviews of Friedman's Playing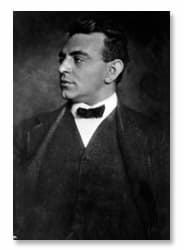 The earliest known review of Friedman's playing, written by the composer-critic Felicien Szopski, describes a concert in Kraków on 11 March 1898. Friedman played an original composition, which is now lost. The critic writes, "He's certainly not a wunderkind, because he's of that age in which people are usually more mature. He's too self-confident: although he's currently not a perfect pianist, one should not strongly criticize him, as it would lower the achievements of a talented youngster, who deserves encouragement. Friedman's trio shows talent but he should wait until he is mature enough in order to produce something artistically valid. Evidently, Friedman does not study music theory… It is high time to study seriously." One year later, performing Beethoven's Fifth and Saint-Saëns' G minor concerto, a different critic writes. "It is too early to have a very serious discussion about his technique, for even now it is very advanced, because Mr. Friedman is still a student and he can learn much more…He possesses a certain advantage in octave technique that is superior to finger work, for he glosses over details which depend on finger strength for a plastic and direct interpretations."
Franz Liszt: Hungarian Rhapsody No. 2 in C-sharp minor (Ignaz Friedman, piano)

Composition Study With Hugo Riemann
Friedman enrolled in the philosophy Department of Kraków University, with his father urging him to study medicine or law or to apply for a government position. In the end, music won and Ignaz pursued a career in music by studying in Leipzig. While majoring in philosophy, he took a great number of musical classes and seminars, and he studied composition privately with Hugo Riemann. A pioneering musicologist and prolific author known for his writings on music theory, Riemann became famous for authoring an extensive musical dictionary. Besides musical instructions, Riemann also provided Friedman with tickets to the daily concerts of the Gewandhaus orchestra under Nikisch, frequently featuring prominent soloists. Friedman remembered, "in particular Paderewski with a perfectly played Chopin F minor Concerto; Johannes Messchaert, a Dutch baritone, and the Joachim-Quartet. What a wealth of new impressions, daily renewed!
Friedman as Leschetizky's Teaching Assistant
After a single year in Leipzig, Friedman went to Vienna for lessons with Leschetizky. Initially, Leschetizky was not enthused by the supremely talented but over-confident youngster. Eventually, however, he took the young Friedman under his wing and after three years of study he became one of Leschetizky's teaching assistants. Friedman explained, "In all of his teaching, Leschetizky paid more attention to tone than to technique, quite the opposite to the opinion generally held. He would often shout at me in the course of a lesson 'tone, tone, tone! Always more TONE!'"
For more of the best in classical music, sign up to our E-Newsletter
Frédéric Chopin: Ballade No. 3 in A-flat Major, Op. 47 (Ignaz Friedman, piano)