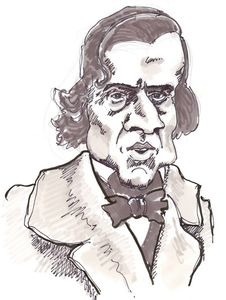 The first transcriptions of Chopin's music appeared as early as the 1830s, shortly after the publication of the original compositions. In time, some 1500 composers took up the task, with some popular works transformed hundreds of times for all possible instruments and ensembles. Throughout the 19th century, appreciation of Chopin's music primarily emerged as stylized illustrations, emphasizing the innovative character of his texture and expression. Chopin's influence on modernist music first emerged in the works of Claude Debussy, Maurice Ravel, Max Reger and Gustav Mahler. However, it was left to a younger generation of Polish composers to bring Chopin's influence into the 20th century. Karol Szymanowski (1882-1937) always stressed the timeless value of Chopin's compositions, and he thought highly of the nationalistic dimension of his music. His Mazurka cycle Op. 50, written between 1924 and 1926, is clearly modeled on Chopin's stylization of that dance; however, it espouses a renewal of Polish music via new techniques and a new artistic style.

Karol Szymanowski: 20 Mazurkas, Op. 50
George Crumb composed his two volume Makrokosmos in 1972/73. The sets contain 24 fantasy-pieces after the zodiac for amplified piano. Just like Bach, Chopin, Liszt, Rachmaninoff and Shostakovich before him, Crumb was looking for an exploration of the technical and musical resources of the instrument. As he candidly pointed out, "Makrokosmos is an all-inclusive technical work for piano using all conceivable techniques from the second half of the 20th century." For Crumb this means a number of techniques that are not idiomatically pianistic, including strumming, plucking, muting, scarping, and hitting, as well as using objects such as paper, chains, a wire brush, thimbles, and plectrums. But it also means singing, chanting, whispering, moaning, hissing and whistling! Crumb predictably incorporates a number of musical quotations, including Chopin's Fantasy Impromptu that turns "Dream Images" into an otherworldly and ghoulish musical landscape.

Georg Crumb: Makrokosmos I, "Dream Images"
The critic Jay Harrison compared Francis Poulenc to the city of Paris. "He is gay like Paris, sad like Paris. His hands wave, his eyebrows arch, he twitches, grins, makes faces. When his mouth talks, all of him talks too. And in his music, not even a deaf man could doubt that." Poulenc composed his 8 Nocturnes between 1929 and 1938. Although clearly influenced by Chopin, Poulenc's compositions are not romantic tone poems. Instead they are sound images of nightly events. The fourth Nocturne, titled "Bal fantome," takes it's musical bearing from Chopin's Prelude in A major, Op. 28 No. 7. The subtext of the composition tells the story of an old and sick man on his deathbed remembering the good years of his youth. Poulenc takes us to a phantom ball with chromatically inflected harmonies gracefully tracing a waltz from a bygone era.

Francis Poulenc: 8 Nocturnes, FP 56
To commemorate the 100th anniversary of Chopin's death, the UNESCO International Music Council commissioned a contribution from the Polish composer Andrzej Panufnik (1913-1991). Rather than quoting Chopin's music, Panufnik explored the folkloric traditions from the Mazowia area where Chopin was born. Using folk melodies and rhythms, he composed five vocalise settings for soprano and piano originally titled Polish Suite. The work premiered under its new title Hommage à Chopin on 3 October 1949 in Paris and proofed immediately successful. Panufnik prepared a second version of this composition for flute and string orchestra in 1966. And after Panufnik's death, his wife Roxanna arranged the work for piano solo.

Andrzej Panufnik: Hommage à Chopin
Chopin's influence is not confined to classical music, but continues to reverberate in popular musical genres as well. Please join us next time for arrangements and interpretations ranging from Barry Manilow to Adriano Celentano.