Our Lady of Paris was one of these rare centers of knowledge that affected paradigm shifts in the sciences, in philosophy and ethics, and in the arts. You might remember that it famously featured in Victor Hugo's novel "
The Hunchback of Notre-Dame
," but much more significantly, it represents the cradle of modern Western music. In fact, the monks and composers
Léonin
and his successor
Pérotin
came up with amazing musical innovations that established what we still call the "
Notre Dame School of Polyphony
."
Pérotin: Viderunt omnes
Both were active at the Cathedral in the 12th century, and helped to define a musical style called "
Organum
." This early form of polyphony takes a melody from Gregorian chant and enhances it by an additional voice singing in harmony.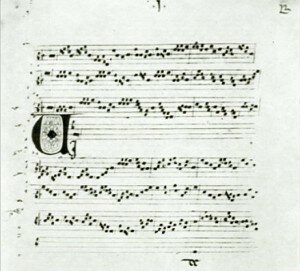 Originally the two voices moved in parallel motion, but eventually they became more independent and created true polyphony. Since it is rather difficult to coordinate the simultaneous singing of two or more independent voices, Léonin invented a system of notation and rhythmic organization that made it possible to write down the music. He basically introduced a system of rhythm into polyphonic music for the first time, with his method of musical notation expressive of this rhythm. A contemporary writer reports, "When you hear the soft harmonies of the various singers…you think yourself listening to a concert of sirens rather than men, music that the most tuneful of birds could not equal." Although the music might sound somewhat archaic to our modern ears, it is the foundation that made possible the glorious musical expressions of subsequent centuries. The cultural and religious relevance of Notre Dame is increasingly at odds with the deconstructive millennial demands of the 21st century. In my humble opinion, however, it is more than a simplistic tourist attraction. Engulfed in flames, Notre Dame pays unapologetic homage to a system of human values, religious believes and the cultural heritage that decisively shaped our modern world.

By now we have all seen the shocking images of the horrific fire engulfing Notre-Dame de Paris, the most famous Gothic Cathedral of the Middle Ages. For over 800 years, it has stood as an icon and symbol of Western civilization, representing its ethical values and Christian system of believes. This extraordinary architectural monument, with its flying buttresses and magnificent stained-glass rose windows openly and proudly showcases the incredible and versatile advances and application of numerous technologies. And as an eyewitness to the French Revolution and the Coronation of Napoleon I as Emperor of France, among numerous others, it has towered over political events that have decisively shaped the European continent, and much of the rest of the world.