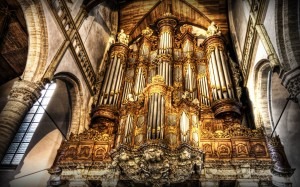 Although we primarily associate the pipe organ with liturgical and/or religious use, the "Queen of Instruments" was originally part of the gladiatorial games in Rome! Parades and subsequent gory events were often accompanied by music, featuring curved horns and organs. Ever since, the incredible variety of tone colors, sound combinations and versatility has allowed the pipe organ to function in a variety of non-lethal settings. From the magnificent pipe organs in churches and synagogues that simultaneously function as glorious examples of architecture, we also find instruments in theaters, concerts halls and even department stores! When putting together this highly subjective list of legendary organists of the 20th century, I was not merely guided by impeccable interpretations. Rather, these selected giants have also left an extraordinary legacy of dedicated compositions and fiercely defended the age-old tradition of improvisation, one of the most powerfully generative processes in music. So let us get started with a true legend, Charles-Marie Widor!

Charles-Marie Widor: Organ Symphony No. 5, "Toccata" (Widor)
The extraordinary idea that the pipe organ could replace an entire symphony orchestra originated with Wilhelm Valentin Volckmar in Germany in 1867. Imitating orchestral tone color, texture and symphonic processes in multiple movements, the genre of the "Organ Symphony" is generally associated with French composers working in the later parts of the 19th Century. One of the most formidable organists of the 19th and 20th centuries, Charles-Marie Widor was appointed "provisional" organist of Saint-Sulpice in Paris, the most prominent position in France. The instrument pioneered by Aristide Cavaillé-Coll was essentially "symphonic" in style, and inspired Widor's most significant contribution to the organ repertoire. In addition, as a leading organ recitalist Widor extensively performed throughout Europe, and his students in Paris became famous composers and organists in their own right, including Marcel Dupré, Luis Vierne, Darius Milhaud and Edgard Varèse, to name only a selected few. He also counted the polymath genius Albert Schweizer among his private students.

Johann Sebastian Bach: Chorale Preludes BWV 731, 625, 622, 665 (Schweitzer)
Widor actively encouraged Schweitzer's theological exploration of Bach's music, which uniquely paved the way for his scholarly and practical interpretation of J.S. Bach's music. He began to explore the use of pictorial and symbolical representations in Bach's Chorale Preludes, in which harmonic language, musical motifs and rhythmic figures illustrate the actual words of the hymns on which they were based. As a performer, Schweitzer was constantly in search of "clarity of expression." Growing up in Alsace, he had experienced the sleek, colorful and highly characteristic sounds of the organs produced by Gottfried and Andreas Silbermann, the most famous and influential instrument builders active during J.S. Bach's lifetime. For performances of Bach's music Schweitzer advocated a move away from the large Romantic instruments of the 19th Century and called for more refined instruments suited to Baroque music. His dedicated publications on organ building not only laid the foundation for the modern-day instruments, but also aided in his personal restoration of the Organ at St. Aurelie in Strasbourg, which produced his famous 1936 recording of Bach's "Chorale Preludes."

Olivier Messiaen: "Improvisations"
Olivier Messiaen was a devout Roman Catholic with an almost childlike belief in the hereafter. He was appointed organist at La Trinité Church in Paris at the tender age of 22, and he would continue to play regular church services until his death nearly 60 years later. For Messiaen, "the organ at La Trinité was a sort of sonic paint box," and his early compositions and improvisations gave rise to a life-long creative process that produced rhythmically complex music based on specific modal symmetry. A fixture on the Parisian musical scene as a composer, organist and educator, he soon inspired composers far and wide to remake the musical world in his own avant-garde image. Yet, at the center of his quest to collapse the distance between him and creation stood his own instrument, the organ. The modernist works that emerged over his extended creative career have none of the commonly associated coldness, but impart complex and powerful emotions ranging from faith, awe, and terror to majesty and mysticism.
Jehan Alain: Litanies (Marie-Claire Alain)
As an aspiring young organ student—and having been fortunate to sit in one of her master classes—my personal authority on anything having to do with organ music was Marie-Clair Alain! Her interpretations of Bach, Couperin and Buxtehude, precise yet engaging and colorful, were widely considered authoritative. One of the most recorded organists in history, Alain issued nearly 300 recordings, including three series of Bach's complete works. When asked why she felt obliged to approach Bach's complete organ works for a third time, she answered, "It's because of the instruments, the instruments above everything else, and the fine state to which they have been restored — and the fact that they are now accessible. These recordings use instruments from Bach's time, and we know that Bach even played some of them — it's an extraordinary feeling, to put your hands on the keyboard, knowing that he was there 250 years before you!" Alain was also devoted to the organ works of her older brother Jehan Alain, a composer killed in action in the German invasion of France in 1940. Marie-Claire Alain always regarded the composer, of whatever period, as the ultimate authority and passed on her extensive knowledge to hundreds of exceptional students described as a "who's who of the present-day organ world."

Johann Sebastian Bach: Gigue BWV 577 (Hector Olivera)
The technical and digital revolution has brought organ performances squarely into the 21st Century. While exceptional organists around the word continue to ply their trade in churches and cathedrals around the world, a new breed of flamboyance has appeared on the concert stage. Don't be distracted by spandex panties and bejeweled platform shoes, today's crop of organ performers display prodigious technical proficiency and formidable creative and re-creative gifts. Modern-day throwbacks to the flamboyant virtuosos of the 19th century, the younger generation dazzles audiences with blazing technique and eclectic repertory. Representatively, as we are really talking about a group of performers, I have chosen the Argentinian organist Hector Olivera. Olivera had his first organ lesson at the age of three, and has since appeared as soloist around the world. And mind you, he frequently brings his own digital touring organ—light show included—to a concert hall near you!