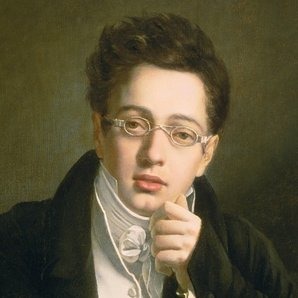 "Minors of the Majors" invites you to discover compositions by the great classical composers that for one reason or another have not reached the musical mainstream. Please enjoy, and keep listening!

Franz Schubert's relationship to the Catholic Church was at best ambivalent. In a letter to his parents in 1825, he writes "I have never forced myself to piety; and never compose hymns or prayers of that kind unless it takes me unawares; but then it is usually the right and true piety." Regardless of his antipathy toward the established Church, Schubert professed a deep and spontaneous spirituality, which expressed itself gorgeously in his church music. At the age of eight he became a choirboy at the parish church in Lichtental, where Michael Holzer, a student of Albrechtsberger, taught him. By 1808, at the recommendation of Antonio Salieri, he became a chorister in the Imperial and Royal Chapel and remained in the choir until his voice broke in 1812. Over the span of his short life, Schubert wrote 39 works of sacred music giving voice to his personal piety and faith.

Franz Schubert: Mass No. 1 in F Major, D.105
His first complete mass setting was composed for the centenary anniversary of the Lichtental church, and possibly first performed in October 1814. Holzer served as choirmaster, Joseph Mayseder was the concertmaster, Schubert conducted and his brother Ferdinand played the organ. Antonio Salieri might actually have attended the premiere and after embracing his student, supposedly said to him "You will bring me yet more honour." Significantly, the soprano solo was designed for Therese Grob, a neighbourhood lass Schubert had a significant crush on! The prominent first soprano solo, with its high tessiture, was specifically designed to showcase her voice. The work is scored for pairs of oboes, clarinets, bassoons, horns and trumpets, three trombones, timpani, strings and organ. It is an amazingly accomplished work for a 17-year old composer. In the extended solo sections in the opening "Kyrie" and the "Agnus Dei" we already find glimpses of Schubert's special lyrical gifts.