Every opera company and university opera center knows the current problem – no way to get on stage, no way to do productions, no way to reach your audience, and an unending number of Zoom meetings. For Dean Anthony of Janiec Opera at the Brevard Music Center, on the other hand, that same problem had a new solution: use the technology of Zoom to put on an opera.
Nine years ago, Anthony and composer Michael Ching created a work that would provide young singers with on-stage and character experience, and soloist and ensemble experience, all within the context of a full opera. Starting with 25 scenarios, Anthony had the concept for what became Speed Dating Tonight! Solo, duos, trios, and the occasional ensemble created an evening of song. Composer Michael Ching took Anthony's concept and wrote the lyrics and music for the show. It received its premiere in 2013 and, to date, has seen over 90 productions, mostly in the US. Now, in 2020, comes the next step in the work's evolution.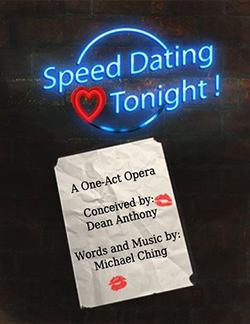 Live music on Zoom, particularly when it's more than one person playing, can be embarrassing. It's not the same as a concert hall. It's hard to coordinate different players, who don't know if they should watch the screen or watch their music and where did the director go? To control that situation, in creating Zoom Speed Dating Tonight!, the music was pre-recorded, the singers were filmed, everything was adjusted, and then will be broadcast in what appears to be a live show.
In creating the work, Anthony was looking for something that his young singers could graduate with as an accomplishment. Consequently, when he did his casting call at Brevard Music Center, Brevard Opera and Janiec Opera alumni stepped forward with enthusiasm, some of whom had participated in the premiere of the work. Expecting maybe 30 singers, Anthony had 60 singers to work into his show. Luckily, over the past eight years, the original 25 scenarios have expanded to over 70, with each part capable of being played by either a man or a woman. Knowing the show from the inside out, Anthony was able to make changes needed to bring it to Zoom, so that ensembles could be changed, situations could be rewritten – the episode with the Nosy Parent become the Nosy Friend – and breakout rooms were used to create the small ensembles. Now, the premiere of Zoom Speed Dating Tonight! is coming up and you should make time in your schedule for it.

On Saturday, 25 July, at 8 pm Eastern US Time, tune into here for a live stream of the premiere via YouTube. It will be rebroadcast on Sunday, 26 July, at 3 pm Eastern US time, and then will be available via the same website for those who missed the premiere.
Anthony wants the work to be useful to future Zoom performances, so he's asked his singers to document how they recorded their sections, down to what technical tools they used. The next group that wants to take up this piece will have the entire history made available to them, and Dean Anthony as a reference source.
He's currently in northern Minnesota, working on a production of Menotti's The Medium in a social distancing setting. The singers are in the usual protective gear of a mask and face shield (for the protection of the other singers and the orchestra) and that has compounded many of the usual staging problems. This work opens on 26 July (see here for details).
His next project is a kind of one-man opera, looking at 8 electricians at Sing Sing Prison. His current plans are to shoot eight 10-minute films, one each of the 8 characters, sung by one performer, and broadcast each one over a 8-week period. At the end of the project, the eight films can be put together as a complete one-man opera of 80 minutes. Again, it takes advantage of the fact that we can't hear music live safely to create opera that gives us a unique view of a situation.
Music in the time of COVID-19 is hard. Those in the arts want to have solidarity with each other, but it's difficult to get your enthusiasm up when you've been home for months. By controlling the quality of the performance, Dean Anthony is facing the challenges of classical music in the Zoom world and presenting us with not only a way to get out of the box but also, perhaps, a brand new box to play with.