Armenian composer Nikoghayos Tigranian (1856-1951) was one of the first generation of composers in Armenia. Joined by others who were folk-music collectors, they laid the foundation for the Armenian national style.
He lost his sight to smallpox at age 9 and was sent to Vienna in 1873 to study at the Imperial Royal Institute for the Education of the Blind; at the same time, he took piano lessons at the Vienna Conservatory. When he returned home in 1880, he gave piano recitals, and travelled around Western Europe, Russia and Transcaucasia giving lectures, as well as giving lectures on Oriental music. In 1893, he studied in St Petersburg with Rimsky-Korsakov.
Just as Kodály and Bartók were doing in Hungary, he collected folk music, particularly mugams (or mughams), a complex art form that combined classical poetry and musical improvisation. A 'mugham mode' is not a scale but an orally transmitted collection of melodies and melodic fragments that would be used during an improvisation. Because of his and others' efforts at collecting, oral traditions of Armenian, Persian, and Kurdish people that would have been lost have been preserved. Tigranian was the first composer to use this music in orchestral compositions.
His piano arrangements are considered particularly important because of their preservation of the individuality of the source material. His 1894 composition, Bayati-kurd, Op. 2, reflects Kurdish tradition. 'Bayati' is an Arabic word for poetry. This work is elegiac, and begins with a slow introduction (tchobane). The principal section of the piece is the bayati; the closing section is known as a guiaff. The tchobane's wistful melody gives way to increasingly fervent harmonies, the result of using both major and minor thirds. The improvisational basis of the mugam comes through even in this written out work. The resulting sound is rather like a mix of Rachmaninoff and jazz and sounds quite modern, rather than being over a century old.
Nikoghayos Tigranian: Bayati-kurd, Op. 2 (Mikael Ayrapetyan, piano)


Armenian pianist and composer Mikael Ayrapetyan is founder of the music project Secrets of Armenia, which wants to increase international awareness of Armenian classical music. He studied at the Moscow Tchaikovsky State Conservatory and his recordings of music by Armenian composers have been praised internationally.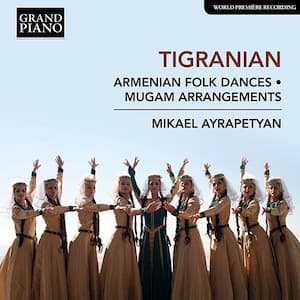 Nikoghayos Tigranian: Bayati-kurd, Op. 2

Performed by
Mikael Ayrapetyan

Official Website
For more of the best in classical music, sign up to our E-Newsletter