Franz Schubert was in dire straits in the mid-1820s. He was very ill and this seems to have crept into his music. His String Quartet No. 14 in D minor was called 'the most morose instrumental work' in the Viennese Classical and early Romantic periods. It's been called inaccessible, monologue-like, it wasn't performed professionally in Schubert's lifetime and was only published after his death in 1828. After his death, it was given as nickname of 'Death and the Maiden' to associate it with the melancholic poem of the same name by Mattias Claudius, written in 1817. It also associates it with the lied written by Schubert in 1817, "Der Tod und das Mädchen."
In the poem, the maiden begs Death to pass her by, she's too young to go. Death, however reassures her that he comes as a friend and she will sleep softly in his arms. The song is written in D minor, only modulating to D major at the end of Death's song, as the maiden succumbs.
In Schubert's string quartet, the piano accompaniment, but not the vocal line, is used as the theme in the second movement.
In Schubert's life, he was sick for much of 1823, even requiring hospitalization. He had no money, having lost most of it in a bad publishing deal, and his latest opera, Fierrabras, was not successful. Commissioned by the Kärntnertor Theater in 1822, as a way of increasing the number of German operas, the work was submitted in 1823. Unfortunately, at the same time, the theatre also brought Rossini and several of his operas to Vienna and their success put Schubert's work into the shadow. It was never staged and he was never paid for it.
Sick, with no income and his savings gone, he pressed forward, writing one of his most beloved song cycles: Die schöne Müllerin, one of his most beloved ensemble pieces: the Octet, about 20 songs, and light pieces for the piano.
Schubert had been writing quartets since he was a teenager, but didn't think much of his early works. In his later quartets, he figured out how quartets work: each voice takes its own character, the first violin is not a soloist, the music has to be completely integrated in its melodic writing, harmonic writing and texture become an important component. The string quartet in Vienna was becoming not only a vehicle for music but also a vehicle for a composer's inner world. It could be both dramatic and colourful, lyrical and striking.
The opening of the first movement is striking: it's a strong unison statement that pushes through a world of terror, pain, and finally resignation and ends dying on a D minor chord.
Franz Schubert: String Quartet No. 14 in D minor, D. 810 "Death and the Maiden – I. Allegro ma non troppo
This recording was made in 1957 in Stuttgart by the Endres Quartet, with members Heinz Endres on first violin, Josef Rottenfusser on second violin, Fritz Ruf on viola, and Adolph Schmidt on cello. This German quartet, founded by Heinz Endres, had an active recording career starting in the late 1950s.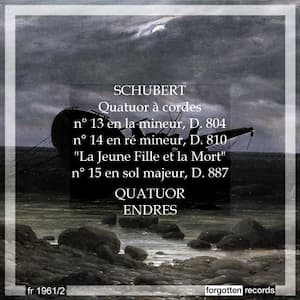 Performed by

Endres Quartet

Recorded in 1957

Official Website
For more of the best in classical music, sign up to our E-Newsletter