Johannes Brahms (1833-1897) didn't come from money and spent the summers of his youth playing the piano to entertain guests at summer inns outside Hamburg. He was promoted by Schumann in his role as editor of the Neue Zeitschreift für Musik, who declared him the heir to Beethoven. Following Schumann's confinement to an asylum, Brahms became a support to Clara Schumann and her family, remaining a friend until her death in 1896. He died the following year.
Brahms' Violin Sonata No. 2 was completed in summer 1886 while he was on holiday in Switzerland. It received its premiere in Vienna that same year. Two songs he was working on at the same time make their appearance. In the first movement, his song Wie Melodien is used as the second subject, and in the last movement, his song Immer leiser wird mein Schlummer (Ever gentle is my sleep) is used. The work is often seen as a twin with the Violin Sonata in D minor, Op. 108, which was also written that same summer holiday.
The last movement begins with a rich melody and then returns to that melody after passages that go through increasingly dramatic episodes. The alternation of violin and piano in exploring that melody is very Brahmsian in its application. The second subject is a bit more solemn and there's a middle section that could also be seen as a development section.
Johannes Brahms: Violin Sonata No. 2 in A major, Op. 100 – III. Allegretto grazioso

Made in 1959 in New York, this recording has Joseph Szigeti on violin and Mieczyslaw Horszowski as the pianist. Hungarian Joseph Szigeti (1892-1973) was a child prodigy on the violin and after study in Budapest, started his international concert career. His nickname, the Scholarly Virtuoso, reflected his increasingly thoughtful and intellectual approach to music, developed after he met pianist Ferruccio Busoni. The outbreak of WWII led the Szigeti's to the US where they discovered the joys of California. They returned to Switzerland in 1960.
Pianist Mieczyslaw Horszowski (1892-1993) was another child prodigy, giving a performance of Beethoven's Piano Concerto No. 1 in Warsaw at age 9. He toured Europe and the US as a child prodigy until 1911, when he stopped to study literature, philosophy and art history in Paris. He went to the US in 1940, living first in New York City and then in Philadelphia. After WWII, he frequently performed in recitals with solo artists such as Casals, Alexander Schneider, and Joseph Szigeti.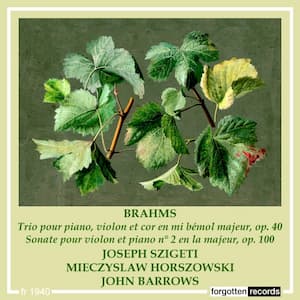 Performed by

Joseph Szigeti
Mieczyslaw Horszowski

Recorded in 1959

Official Website
For more of the best in classical music, sign up to our E-Newsletter