A new recording of the Mozart Piano Sonatas caught our attention because it wasn't being played on the latest new keyboard or a historical reconstruction of a keyboard, but on 2 Viennese guitars. To hear works that are so familiar and yet in such an unfamiliar timbre is almost like discovering the work for the first time, again.
Raoul Morat and Christian Fergo met at the musical academy of Lucerne, but it wasn't until they discovered a mutual admiration for Schubert that they came together as a duo in 2014. Their first recording, issued in 2018, was arrangements of Schubert's piano music for guitar duo. Now, in 2021, they have arranged 4 of Mozart's piano sonatas for guitar duo and recorded them.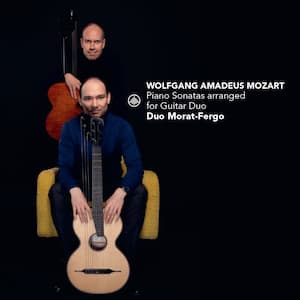 When we spoke with Christian Fergo, he emphasized that their performance of the Schubert works was done on the smaller Viennese guitar, rather than the larger Spanish guitar popularized by Segovia. They wanted to perform the music in a way that would have been appropriate in the 18th century – on smaller instruments with a smaller sound for a smaller performance area. They had their instruments newly made but, in keeping the experimentation of the Classical era, added extra bass strings. Their instruments are not 6-string guitars, but 9-string guitars, and they based their instruments on an 8-string instrument from the time.
Their first experiments with Schubert were more than his keyboard works. They also did a transcription for two guitars of Schubert's Winterreise, to accompany a singer. This proved so satisfactory they began to explore other composers and another surprising choice was their Chopin transcription. And now Mozart.
The keyboard range of the piano is far greater than that of the guitar and as they've made their arrangements, they've had to be aware of the necessary transpositions they had to make. For example, the first work on the album, Mozart's Sonata No. 10, K. 330, was originally in C major but they had to transpose it down a fourth to G major so they had enough notes. With the additional bass notes on their guitars, this worked. It's a practicality of making transcriptions that sometimes the original doesn't quite fit on the new instrument, but that has been recognized by composers across all ages when they made their own new versions.
On the Schubert transcriptions, it generally worked to transcribe the left hand on one guitar and the right hand on the other, however, when you have chords, as they found in Mozart, it was necessary to split the chord between the instruments. Sometimes voices had to be doubled differently and sometimes what's being played needs more volume. At the same time, it was important to keep to the style of the period.
Mozart: Sonata No. 10 in G Major orig. in C Major, KV 330 – I Allegro moderato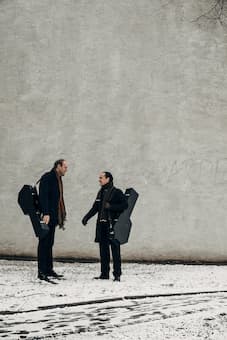 It was important that the works be historically informed. It's not just about the notes but about the interpretation. The aesthetics of the time are important to preserve. One of the most important differences between performing these works on guitar versus keyboard is that the guitar is a chordal instrument that is played directly with the hands. You can add vibrato, you can add different colourings. This isn't possible on a piano and not really even possible on an instrument such as the violin – you can add vibrato, but since it's a melody instrument, playing the chords isn't possible. Mozart is the art of refinement and the guitar duo achieves that.
Mozart: Sonata No. 10 in G Major orig. in C Major, KV 330 – III Allegretto
After Schubert and Mozart, what's next? With the world of concertizing closed these days, the Duo has had an opportunity to look to their future. Could it be some Bach, reaching back in time to the Baroque period? Or, could it be Bach as modernized by someone such as Busoni, with his Romantic additions? Up to now, the Duo's recordings have focused on a single composer, permitting them to fully explore a composer's sound, now perhaps something different is in order. One thing they're considering is a 'bon-bon' album with selections from a number of different composers. The possibilities are wide and intriguing.
In making arrangements, the Duo has considered the larger picture. You will inevitably lose something in a transcription for another instrument but are you adding as much as you're losing? It's an important question because the simple act of making a transcription is more than just a new instrument – it's about new techniques, new sounds, perhaps even a new way of hearing a familiar work. Here's Mozart's Rondo alla Turca, but not as you've heard it before. Christian Fergo said that this music was some of the most difficult he's every played, but that you shouldn't hear that on the recording!
Mozart: Sonata No. 11 in D Major orig. in A Major, KV 331 – III. Alla turca. Allegretto
Chopin is credited with his blessing on the duo guitar sound: Nothing is more beautiful than a guitar, except, possibly two. Come explore the world of Mozart for 2 Viennese guitars and hear his music in a new way with the Duo Morat-Fergo.
For more of the best in classical music, sign up to our E-Newsletter