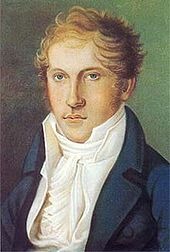 Louis Spohr (1784-1859), actually born Ludwig Spohr in Braunschweig, was a German composer, violinist and conductor. Early violin studies secured employment with Duke Karl Wilhelm Ferdinand of Brunswick, and barely 16 years old, Spohr accompanied his teacher Franz Eck on a concert tour, which took him as far as Saint Petersburg. But his musical star really rose after December 1804 performance in Leipzig. The highly influential music critic Friedrich Rochlitz was in the audience and Spohr's playing supposedly brought him "to his knees."

He was on friendly terms with Beethoven, and on the recommendation of Carl Maria von Weber became director of music at the court in Kassel. However, Spohr was not only a fabulous violinist, he was also a prolific composer. Among his roughly 300 works we find symphonies, operas, oratorios and 36 string quartets. In addition we find duos, trios, quintets, sextets, an octet and a nonet, alongside a number of works for solo violin and for solo harp. And then there are a number of compositions for violin and harp to be played by him and his wife. In his time, Spohr was rightfully most famous for his eighteen violin concertos and his treatise on violin playing that became a standard work of instruction. He is said to have invented the violin chinrest in 1820, and as a conductor he was one of the first to use a baton and he also invented rehearsal letters. So how then does a world-famous violinist get involved in writing 4 concertos for the clarinet?

Louis Spohr: Clarinet Concerto No. 1 in C minor, Op. 26
It's not as complicated as it sound, as the newly invented instrument was at an important stage of development. Various changes to the design of the clarinet finally ensured a proper response throughout its register, and Johann Simon Hermstedt, one of the most famous clarinetists of the 19th century essentially commissioned the concertos. Spohr's background as a violinist strongly informs the way he writes for clarinet. He demonstrates a sure handling of the special qualities of contrasting registers, and its effectiveness in arpeggios, rapid scales and ornamentation. Agile technical displays aside, Spohr's clarinet concertos always adhere to the sustained operatic lyricism that also informs his violin compositions.