This recently released anthology of piano music comes two years after Ji Liu's album of the same name and offers intermediate and advanced level pianists an opportunity to explore and play some of the pieces featured on Ji Liu's recording, including his own arrangements Aquarium from the Carnival of the Animals and Rachmaninoff's Spring Waters, together with his own composition Tragicomic Trilogy, written in 2020 and which "reflects the complication of opposition and relativity we constantly experience in life" (Ji Liu).
The original album was inspired by the ancient Chinese five-element theory of Wu-Xing to beautifully illustrate the elements of fire and water, and the atmospheric and expressive pieces chosen and performed by Ji Liu offer the listener soothing and mellow sounds that brilliantly reflect the calming nature of water, alongside contrasting intense and fast-paced pieces, such as de Falla's Ritual Fire Dance, inspired by the element of fire.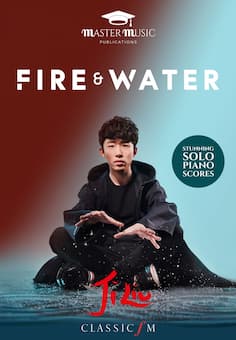 To bring out an anthology of some of the pieces from the album is both a neat marketing exercise and, more importantly, an opportunity for pianists to enjoy music which is sometimes considered the preserve of the professional only. It is true that all seven pieces in the collection are aimed at pianists of at least Grade 8 standard or beyond, and they represent some of the best of keyboard virtuosity (for example, Debussy's Reflets dans l'eau). Many contain technical challenges, including ornamentation, poly-rhythms, voicing and advanced pedal technique, but the pieces also offer great scope for expressive playing and personal interpretation, and of course pianists can draw inspiration from Ji Liu's album. The anthology also includes commentaries and notes to guide and inform the player and facilitate self-learning, together with interesting insights into Ji Liu's own interpretative and compositional impulses.
It's a handsomely presented volume, published by Master Music Publications, an independent British music publisher which specialises in original compositions, arrangements and educational material by professional musicians working today, including left-handed pianist Nicholas McCarthy. Fire and Water is printed on environmentally-friendly paper and with clear, easy-to-read music engraving.
As for Ji Liu's recording Fire and Water, Aquarium (his own arrangement), the first track of the album, is immediately compelling with its shimmering figurations, transparent sound and sensitive shading. The rest of the album is equally engaging and enjoyable, with a varied and imaginative selection of pieces.
For more of the best in classical music, sign up to our E-Newsletter