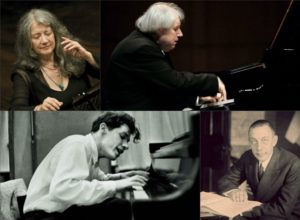 Classical Music is obsessed with greatness, especially amongst critics, audiences, and pedagogues who constantly seek to define "greatness" in musicians and composers, and there are innumerable lists, rankings and recordings of great composers and artists, concertos, symphonies et al.
Schumann: Piano Concerto in A Minor, Op. 54 – III. Allegro vivace
For the artists themselves, greatness is not their concern; I very much doubt that an artist of the calibre of, say, Martha Argerich – whom, for many people, embodies what is meant by "greatness" – ever considers herself to be "great". The definition of greatness does not concern artists like Argerich or Perahia, Hamelin or Uchida. No, they are concerned with bringing something into being –music.
I always valued great artists' natural desire to put the music, the composer, and the listener first; to give to the listener an opportunity to share the artists' love of the music and to shed light upon it. – Peter Donohoe, concert pianist and international competition juror
Many of these great artists started on the path to greatness as young children, identified as musical prodigies, and have then mastered their art so completely as to express themselves fully and distinctly, yet they also recognize that greatness is an ongoing process and that one should never slip into complacency nor rest on one's laurels. It takes an enormous amount of perseverance to achieve greatness, and the acknowledgement that there may be hurdles and setbacks along the way.
Great musicians are able to create something universally meaningful, memorable, generous (in the sense of sharing the music and their passion for it) and long lasting. Fundamentally, this comes from total control of one's instrument – technically and artistically – but greatness transcends technical assuredness and pure virtuosity; these performers are humble in the face of the greatness of the music, and becomes the servant of the music and listener.
Chopin: Etude No. 19 in C-Sharp Minor, Op. 25, No. 7 (Sokolov)
Greatness is not measured by financial rewards, the number of concerts given nor albums recorded, but rather by the creation of something of value, by and large through an especially profound emotional connection to the listener in the transmission of what is in the score. Passing the composer's intentions through the lens of a great artist offers something much greater than the sum of its parts. A great artist creates lasting value through the development of their personal ideas about the music, perhaps by offering a different or new interpretation, or simply by touching audiences in a particular way. Why else do people return to hear artists like Argerich, Sokolov, Hough, Levit time and time again? Such artists also provide a source of inspiration to others – younger or aspiring artists, students and listeners – which often outlasts them.
If asked to explain why certain artists are "great", many people struggle to do so and it is this ineffableness, this je ne sais quoi which also defines greatness: it is impossible to explain.
The pianists selected for this Great Performers mini series seem to fit the definition of greatness outlined above, but this list is by no means definitive and is also subjective. There are of course many other "greats" and we each have our own personal favourites, those artists whom we greatly admire, whose performances touch us in a very special way.