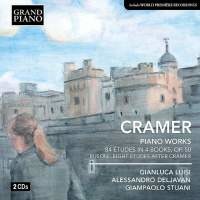 Studio per il pianoforte, Book 1, Op. 30
No. 3 in D Major
Gianluca Luisi
Alessandro Deljavan
Giampaolo Stuani
From Cramer – Studio Per Il Pianoforte (84 Etudes in Four Books) / Busoni : Eight Etudes after Cramer (2012)
Released by Naxos Grand Piano
Cramer: Studio per il pianoforte, Book 1, Op. 30 – No. 3 in D Major


Johann Baptist Cramer's formidable reputation as a pianist of sensitivity and singing tone at the keyboard is transferred into his Etudes, the musical interest in these pieces including echoes of Bach and Scarlatti. This made them favourites with Beethoven and Schumann in their day and later with Busoni, their influence resonating through pianistic history.
Johann Baptist Cramer (1771-1858)
The musical activities of the Cramer family span centuries. John Baptist Cramer, the most distinguished of them, was born in Mannheim in 1771. His grandfather, Jakob Cramer, a native of Silesia, had settled in Mannheim, where he was employed as a drummer, then as a violinist and copyist for the court orchestra. His elder son, another Johann Baptist, followed in similar occupations, with the latter's sons Franz-Seraph and Gerhard Cramer, also finding employment as court drummers, now in Munich, where the Electoral court had moved in 1788. Jakob Cramer's eldest son, Wilhelm Cramer, was born in Mannheim in 1746 and became a pupil of Johann Stamitz, creator of the famous Mannheim orchestra, of Domenico Basconi and later of Stamitz's successor, Christian Cannabich. He became a violinist in the Mannheim Court Orchestra from the age of ten. Wilhelm Cramer soon won wider distinction as a violinist and composer, travelling in the Netherlands and in Germany, before a longer stay in Paris, where he had gone in the entourage of Duke Christian IV of Pfalz-Zweibrücken, who did his best to entice him away from Mannheim. In Paris Wilhelm Cramer married a French singer and harpist, Angélique Canavas and in 1772 he travelled to England, securing further leave from Mannheim. In London he took part in the concerts organized by Johann Christian Bach and Carl Friedrich Abel and established himself as a violin virtuoso, orchestra leader and composer, finally securing release from his obligations in Mannheim through the intercession of the English Queen Charlotte. On the death from small pox of his wife, he married an Irish singer, Mary Maddan. In the later years of his life he still continued to appear as a violinist, with a visit to Amsterdam as late as 1791, and he played a leading part in the concerts over which Haydn presided during his visits to England in the 1790s. Wilhelm Cramer died in 1799.
Johann Baptist Cramer, who was to establish a formidable reputation as a pianist, was the son of Wilhelm Cramer and the latter's first wife, with whom he moved to London at the age of three. He made his first appearance as an infant prodigy at the age of ten and three years later, in 1784, joined Muzio Clementi, briefly his teacher, in a sonata for two pianos. Cramer's early lessons had been with his father, and then with Johann Schroeter, whose widow was to provide solace for Haydn during his visits to London in the 1790s. Johann Baptist's other teachers included Carl Friedrich Abel, and, for counterpoint, lessons based on the writings of Friedrich Wilhelm Marpurg and Johann Philipp Kirnberger. In 1788 Cramer embarked on his first European tour, which took him to Paris and to Berlin, while in London he made his name as one of the leading pianists of the day and as a successful teacher. A further European tour in 1799 took him to Vienna, where he became a friend of Beethoven, admiring the latter's powers of improvisation and exciting the respect of Beethoven for his own abilities as a player. Cramer was in Vienna again during a journey from 1816 to 1818, admired in particular for his sensitivity and command of a singing tone on the keyboard, creating a style of playing that had a strong influence on the next generation of pianists. Further journeys took him in 1835 to Munich and Vienna, and he spent several years in Paris, before his final return in 1848 to London, where he died in 1858. His long life and career had taken him from the age of Mozart to that of Liszt, with whom he played duets in 1841. As a composer he had been prolific, and he had also been involved in music publishing and in the sale of pianos, his name continuing its commercial connection in London well into the twentieth century.