This sparkling new release from British pianist Daniel Tong opens with an explosive 'Mannheim rocket', the dramatic first sentence of the Piano Sonata in C minor, Op 10, No. 1, which sets the tone for an uplifting and very enjoyable listening experience.
Daniel Tong has been playing Beethoven "since I was nine years old and my teacher gave me a little Bagatelle by the master", and the piano sonatas as well as the duo sonatas and piano trios are at the heart of Tong's musical life. The pianist's affection for this repertoire is evident not only in his close attention to details such as articulation or marks of expression but also an appreciation of the composer's wit and comic timing as well as his emotional depth.
Ludwig van Beethoven: Piano Sonata No. 6 in F Major, Op. 10, No. 2 – I. Allegro (Daniel Tong, fortepiano)

This new release was made possible via crowdfunding and Tong recorded the Beethoven sonatas on a copy of an 1815 Walter fortepiano, an instrument with which Beethoven would have been very familiar. The result is a more intimate sound, much more suited to the salon or hauskonzert than the grand concert hall. Yet these pieces are concert works and I am sure Beethoven intended them as such: these sonatas were written for the composer himself to perform, as a young piano virtuoso keen to show off his skill.
Chronologically speaking, these are "youthful" or "early" works, published when Beethoven was not yet 30; yet in their wit and inventiveness, range of expression and appreciation of the capabilities of the instrument they reveal a composer who had already absorbed the finer – and finest – points of sonata form. In these sonatas, we encounter a young composer with the world at his feet.
I have a special affection for the Opus 10 sonatas because I learnt the first one, in C minor, for my Grade 8 exam, taken back in the day (early 1980s) when one was required to perform an entire sonata. I loved the energy of the outer movements and the contrasting warmth and elegance of the slow movement whose melody and structure look forward to that of the Pathétique sonata (Op 13). Tong neatly captures these contrasts: after the explosive energy and drama of the first movement, the slow movement is a welcome balm. Indeed, it is in the slow movements of each of these three sonatas, that I found the greatest depth of expression: the slow movement of the D major sonata (No. 3) is darkly sombre, spacious and operatic, and freighted with emotion, prefiguring the most profound slow movements of later sonatas.
Ludwig van Beethoven: Piano Sonata No. 5 in C Minor, Op. 10, No. 1 – II. Adagio molto (Daniel Tong, fortepiano)

For the listener more used to hearing these sonatas on a modern piano, Tong coaxes a remarkably rich range of details and colours from the fortepiano. The instrument is far less resonant than a modern piano, and the result is a more incisive, percussive and vibrant sound, with some wonderfully punchy bass details and a gloriously transparent treble.
Are these Beethoven's piano sonatas as he might have heard them himself? Who knows – we are, sadly, not able to time travel back to late 18th-century Vienna, nor get inside Beethoven's head to find out – but what this recording confirms is that Beethoven was a master of the sonata form, and Daniel Tong a worthy exponent of this wonderful repertoire.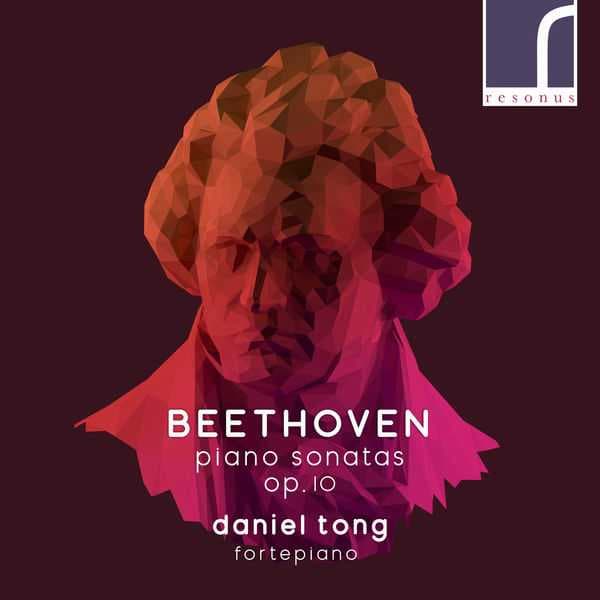 Beethoven
Piano Sonatas, Op. 10 Nos 1-3
Daniel Tong (fortepiano)
Resonus RES10307
For more of the best in classical music, sign up to our E-Newsletter