Recently, we lost a virtuoso violinist, Aaron Rosand—one of the last of a generation of exceptional violinists, which included Jascha Heifetz, Nathan Milstein, Yehudi Menuhin, Isaac Stern, David Oistrakh, Ida Haendel and others.
Rosand had a brilliant performing career, which spanned an astonishing 77 years. Born in Hammond, Indiana in 1927, to a Russian mother and a Polish father, Rosand, evinced his immense talent as a young child. He made his debut at age 9 and was accepted to the Curtis Institute in 1944. Upon graduating he made his New York recital debut in 1948 and he embarked on a career as soloist performing in recital and with all the major orchestras in the world.
Bruch: Romance in A Minor, Op. 42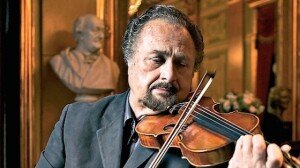 He made several recordings including Bruch, Sibelius and Paganini Concertos, the complete works of Brahms, and many recital albums. My favorites are the romantic morsels, repertoire rarely played. Listen to his superb playing of these gorgeous romances, the first, Romance in A minor by Max Bruch—poignant, evocative, tender; then a romance by Jean Sibelius—lovely melodies, and a touch of melancholy, and finally, Two Fantasy Pieces by Carl Nielsen, in a bit more modern idiom, the violin yearning, sighing. Rosand plays with a rich tone, tasteful slides, scintillating vibrato, and delicate harmonics. It gives me shivers!
Sibelius: 4 Pieces, Op. 78: No. 2. Romance
Nielsen: 2 Fantasy Pieces, Op. 2, FS 8: No. 1. Romance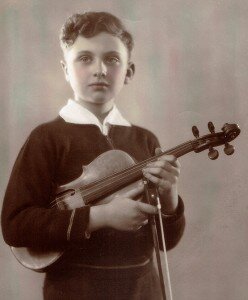 Perhaps you have not heard his name before now. Rosand attributes this to a sad incident. In 1960, he made his New York Philharmonic debut as soloist in the Barber Concerto with Leonard Bernstein conducting. Samuel Barber was in the audience as was Isaac Stern. Before the applause died down, so the story goes, Stern, waiting in the wings, drew Bernstein aside and demanded that Bernstein withdraw his agreement to record the Barber with Rosand or he, Stern, would cancel other recording projects. Stern recorded the Barber and Rosand never played the work again.
Arensky: Violin Concerto in A Minor, Op. 54
But Rosand had between 70 to 80 other concertos in his repertoire, including 19th century works such as Jenö Hubay's Concerto and Anton Arensky Concerto—a lovely work and surprisingly unknown.
For more than thirty years he was professor at the Curtis Institute, and mentor to a new generation of wonderful violinists including Stephen Copes, and Ray Chen who wrote at the news of Rosand's passing:
"I have some deeply saddening news to share with you. My teacher Aaron Rosand passed away last night. I learned so much from him; his pure, beautiful sound that would shimmer and cry when being drawn from the instrument; his gruff laugh that would often be accompanied by some sort of rebuke telling me that I wasn't sustaining the line enough, or that I needed to "find my own sound". He was tough on me, but only because he believed in me. There's not one day that goes by when I don't think about the things he said to me during our lessons. I'm still learning every day thanks to you Mr. Rosand. We will miss you, but your legacy lives strong in the wonderful musicians you've produced."
Rosand was an outstanding pedagogue. Through his own studies with Efrem Zimbalist and Leon Sametini he channeled the violin teaching of the legendary Russian school of Leopold Auer and Eugène Ysaÿe. Rosand believed that talent was but a small part of becoming a musician, "there is no short cut to fine playing. Only logical, intelligent and concentrated practice will yield results," he wrote.
Sometimes great performers are not always the greatest teachers. This was not the case with Rosand. It's impressive that he not only focused on virtuosity but also on the nitty gritty details of practicing and avoiding injury.
"When beginning a practice session, keep in mind that you have to warm up the fingers of both hands. You cannot begin by trying to regain the sound or facility that you had after three to four hours of practice the day before. There must be a warm-up period before you attack the repertoire or you can severely strain your hands. In any physical sport, the muscles have to be exercised to perform well. This applies to your right hand as well as your left hand," he said.
And his words of wisdom about how to approach a piece of music are inspiring for any instrumentalist.
"Begin by studying the score with or without the violin in hand. Sing the line to yourself to better understand how you want to hear it played. We must respect the composer's intentions, such as markings, dynamics, and notations before applying our personal ideas. The score is the 'black and white' canvas on which the artist, by using fingering and bowing techniques, applies colour and character appropriate for each composer. Vibrato and bowing technique varies depending on the country of origin of the composer and must be tastefully applied."
There are many more insights on his website.
Rosand played on the famed 1741 'Kochanski' Guarneri del Gesu, but his sweet, elegant sound was undoubtedly from his generous heart. How fortunate we are able to enjoy his artistry through his recordings.