Juan Crisóstomo de Arriaga (1806-1826) received the nickname of 'The Spanish Mozart' after his early death because, like his namesake, he was a child prodigy at both the keyboard and in composition. He was born on what would have been Mozart's 50th birthday (had he not died at age 34), and his first two names, Juan Crisóstomo, were matched to Mozart's first two names, Johannes Chrysostomus.
His first music teachers were his older brother and his father. At age 15, he was sent by his father to Paris to study music at the Paris Conservatoire. His studies included violin under Pierre Baillot, counterpoint with Luigi Cherubini, and harmony under François-Joseph Fétis. Cherubini, director of the conservatoire, praised him for a Stabat mater he had composed, calling him 'music itself.' Arriaga won prizes for counterpoint in 1823 and for fugue in 1824.
At the Conservatoire, he served as Fétis' assistant from 1824 and was an active composer. Some of his music is lost, including an 8-voice fugue and most of his 1819 opera, Los Esclavos Felices (The Happy Slaves) although its revised version survives. His meteoric rise seemed to contribute to his death at age 19: a letter to his father and a report by Fétis point to a lung infection and exhaustion as the causes of his demise.
Forty years after his death, Emiliano de Arriaga started to assemble his ancestor's papers and he started to promote Juan's work. As a composer from the Basque country, he became an important symbol in the Basque nationalism movement and his nickname has been changed to 'The Basque Mozart.'
He only wrote one symphony, completed in 1825, and in both its structure and its orchestration, it's a unique work. Much of it would be termed neo-classical in its formal and stylistic details, and, at the same time, it has romantic qualities. The slow introduction seems to be preparing for a movement in D major, but it's written in d minor. The next movements are in A major and D major while the last movement just fails to confirm its d minor key. Given Arriaga's age, we can probably best understand this work as a conglomeration of the stylistic trends that were active in the Paris Conservatoire at the time – including the very French scoring for the wind instruments, described as 'generous and differentiated.'
Juan Crisóstomo de Arriaga: Symphony in D major – I. Adagio – Allegro vivace (Concerto Köln)

Concerto Köln, founded in 1985, specializes in music of the 18th and 19th centuries, performed on period instruments. They do not have a permanent conductor; Martin Sandhoff is their artistic director.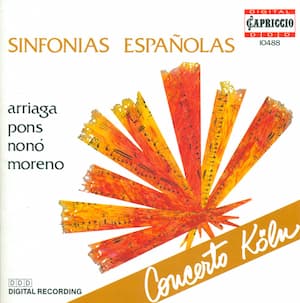 Juan Crisóstomo de Arriaga: Symphony in D major
I. Adagio – Allegro vivace

Performed by
Concerto Köln

Official Website
For more of the best in classical music, sign up to our E-Newsletter