Composer Aaron Jay Kernis (b. 1960) is a rare winner of both the Pulitzer Prize (for his 1997 string quartet Musica Instrumentalis) and Grammy Awards for contemporary classical composition and classical instrumental solo (for his 2019 Violin Concerto).
Originally written in 1995 for violinist Joshua Bell, Air has been arranged over the years for many kinds of accompaniment to the solo instrument: piano, chamber ensemble, and orchestra. In this recording, however, the solo instrument is changed from violin to flute and, in Kernis' words, it's 'like a love letter.' So completely convincing is this work as a flute piece that if you only hear this performance, it's hard to imagine that it began as a work for a completely different instrument.
Kernis: Air (Marina Piccinini, flute; Peabody Symphony Orchestra; Leonard Slatkin, cond.)
Opening with a lyrical question and answer theme, the work goes on to fully explore the flute's possibilities, both expressive and emotional. To contrast with the first theme is the very still second theme that extends to the uppermost range of the instrument. There's a dramatically intense middle section and then cycles backward, ending in a final ascent.
Writing the same virtuoso work for two different instruments isn't common, but it isn't unknown, either. One of the most famous examples is Beethoven's Violin Concerto in D major, Op. 61. Due to rehearsal problems, its premiere in 1806 was not a success. Beethoven finished the solo part so late that the soloist, Franz Clement, had to sight-read parts of it at the premiere. It's also said that in a fit of pique, Clement inserted a solo work of his own either between movements or at the end, where he performed on one string with the violin upside down. The concerto languished until the mid-19th century when the 12-year-old Joseph Joachim performed with the London Philharmonic Society, Felix Mendelssohn conducting.
At the request of Muzio Clementi, Beethoven rewrote the work as a Piano Concerto, Op. 61a, in 1807. It had its Vienna premiere in 1808 and its London premiere in 1810. Over time, it has also been made into a Clarinet Concerto, a Cello Concerto, and a Double-Bass Concerto.
Kernis' work, no matter what its origins, remains a beautiful work for the flute, as a modern work for flute and orchestra, it brings not bravura runs and trills, but a kind of central stillness that lets you appreciate the intrinsic qualities of not only the work but also the instrument.
The soloist, Marina Piccinini, studied at the Juilliard School before performing with orchestras such as the Boston Symphony Orchestra, the London Philharmonic, the Rotterdam Philharmonic Orchestras and many others around the world. A faculty member at the Peabody Institute, she is one of the leading flute virtuosos today.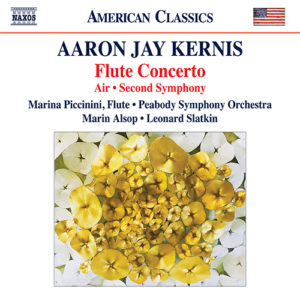 Aaron Jay Kernis: Air

Performed by
Marina Piccinini
Peabody Symphony Orchestra
Leonard Slatkin

Official Website