Bach, trans. Liszt: Prelude in A minor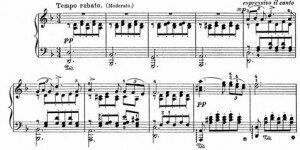 Robert Schumann considered Liszt's transcriptions to be "new" works, such was Liszt's painstaking approach combined with a keen sense of structure and narrative, which enabled him to get to the very heart of the music to create works of astonishing depth. (Schumann also remarked that Liszt's transcriptions were perhaps the most difficult pieces written for the piano up to that time). He was highly sensitive to sonority and his appreciation of the piano's capabilities brought wonderful orchestral sounds and timbres, vivid textures and colours to his piano transcriptions through devices such as arpeggios, complex figurations, elaborate cross-hand effects and innovative use of the pedals. For the first time, the piano could be used to reproduce the sound of any instrument: in his transcriptions of Bach's organ works, the use of rapid passage work and cascading double octaves, for example, creates deep resonance in the bass, akin to the rich sound of a mighty church organ.

Schubert/Liszt: Standchen

It is in his transcriptions of Franz Schubert's songs that Liszt's fine art of transcription reaches its apogee. He transcribed some 60 of Schubert's songs for solo piano and in doing so helped popularise the then obscure works of Schubert, quickly elevating them to the position of popular concert pieces where they remain today. Liszt's Schubert transcriptions are not simple "arrangements" of the original songs: many of the works consist of two or three piano accompaniments and one line of melody or a doubling of the melodic line, yet without any paraphrasing or free fantasies. Such is Liszt's skill he is able to present music which is pianistically "totally Liszt", yet retains the core melodic and emotional depth of these works, so that the essence of the composer is captured with all the lyrical beauty and of Schubert's original. As Liszt intentionally preserved all the details of the original songs, the transcriptions present challenges for the pianist, such as how to produce a beautiful vocal line and convey the meaning of the song's words on the piano, as well as interpretive aspects such as ornamentation and style. In Standchen (Serenade) from the Schwanengesang, or the Ave Maria, for example, the tantalizing beauty which Liszt imbues in this music is the finest testament of Schubert's immense gift for melody – and Liszt's sensitive and respectful appreciation of it.

Schubert/Liszt: Litanei

In his Paraphrases and Reminiscences, Liszt offers a re-interpretation based on thematic material drawn from the original source, his best known being based on operas by Verdi. These are not simple transcriptions or "opera medleys" but rather Liszt takes the principal elements of the opera and creates a new art work. And in doing so pays tribute to the original. Just as in the song transcriptions Liszt seeks to evoke sonorities of both voices and orchestra, challenging the performer's sense of drama, colour and imagination in unique ways.

Liszt/Verdi: Paraphrase on Rigoletto

In the nineteenth century Franz Liszt probably did more than any other composer for the genre of the piano transcription. His transcriptions and paraphrases made an important contribution to the development of piano music, with their technical challenges, innovative notation, and complex pianistic and dramatic effects. He was also active at a time when huge developments in the manufacture and mass production of pianos meant that the instrument was almost ubiquitous in every domestic setting, and amateur players were keen for repertoire which could be enjoyed at home. His transcriptions of Beethoven's symphonies, for example (works which he also performed himself), allowed the home player to enjoy these great works from the comfort of the parlour or salon, and through his brilliant piano transcriptions, Liszt unselfishly promoted and disseminated the works of his fellow composers.