When we think of Jules Massenet (1842–1912), we principally think of the opera composer, the man behind 27 operas that became the realization of the French Belle-Époque, including Manon (1884), Werther (1892), and Thaïs (1894). However, he was also a successful composer of ballets, orchestral suites, tone poems, incidental music, and some 200 songs. It is the non-operatic Massenet we will focus on here.
In 1891, Massenet wrote a symphonic poem for his new publisher, Henri Hugel. This work, Visions, was very much based on Franz Liszt's tone poem Les Preludes written some four decades earlier. The orchestration of Massenet's work is unusual in that in addition to the standard orchestra, he also had an off-stage orchestra that included a soprano, solo violin, harp, harmonium, and an instrument called the electrophone. The score specifies that these instruments must not be visible to the audience.
The use of a drone instrument (the harmonium) and the newly invented electrophone, combined with the music for the wordless soprano was extremely advanced for its time. Part of the music for the off-stage ensemble, a duet for harp and violin, might be considered a model for one of Massenet's most famous works, the Meditation from his opera Thaïs, written 3 years later.
The electrophone had been invented a few months before Massenet began writing and was an instrument that was intended to sound like the human voice. In the score, starting on p. 32, Massenet indicated the notes for the instrument in blue pencil. Only 3 pitches were used: B flat, B, and middle C and the sound reinforces the soprano line.
The work was inspired by a trip Massenet took on the Simplon train over the Alps. He wrote: 'The last hour of the day, in the high and sad solitudes of the Simplon: the traveller over there has fallen asleep… but his sleep is disturbed by visions sometimes calm, or agitated, sometimes smiling or terrible – he wakes up – around him, it is night… he no longer dreams, he listens, and thinks he hears a voice dear to his memory'.
And so, Massenet builds up his train journey, ending up in the mountains of Switzerland, perhaps emerging through the clouds. The traveller sleeps, dreams, and wakes to a wordless voice summoning up the old, happy times.
Jules Massenet: Visions (Poppy Shotts, soprano; Maya Iwabuchi, violin; Royal Scottish National Orchestra; Jean-Luc Tingaud, cond.)


French conductor Jean-Luc Tingaud has an international career as both an orchestral and opera conductor. Recently, he's been recording the work of French composers, including Bizet, d'Indy, Poulenc, Franck, and Massenet.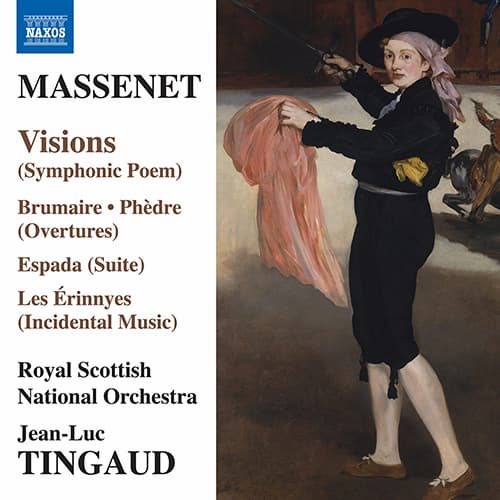 Jules Massenet: Visions

Performed by

Poppy Shotts
Maya Iwabuchi
Royal Scottish National Orchestra
Jean-Luc Tingaud

Official Website
For more of the best in classical music, sign up for our E-Newsletter