The lure of South America in the late 19th- and early 20th-century resulted in the South American craze in France starting in the 1910s. Brazilian dancers and orchestras travelled to Europe and Europeans travelled back. French composers such as Darius Milhaud, who was working in Brazil as secretary to the French ambassador, brought back Brazilian-influenced ideas that appear in his works such as Le boeuf sur le toit.
Back in Brazil, however, music continued on. The composer Alexandre Levy was born in São Paulo in 1864. His musical style was a fusion of classical European styles with Brazilian folk music and rhythms.
Although tango as a dance is associated with Argentina, its spread now encompasses the world. Levy's Tango Brasileiro, written in 1890, gives tango a Brazilian twist with its mix of Afro-Brazilian rhythms. Levy's combination of styles marked the beginnings of the establishment of a national style in Brazil.
Levy died at age 27, having already created a work that has become a staple of the Brazilian piano repertoire, Tango Brasileiro. You might find its sound familiar: it was one of the sources for Milhaud's Le boeuf sur le toit and it appears in the last section, orchestrated, of that work.
Opening with a bright figure with emphasis on the upbeats, the tempo changes to a singing style with arpeggios in the base, before returning to the opening figure at the end. For pianists, this was a new style filled with syncopation and unusual accents.
Alexandre Levy: Tango Brasileiro

This recording was made in 1959 in São Paulo by the pianist Fritz Jank, who was a member of the Conjunto de Música de Câmara de São Paulo (São Paulo Chamber Music Ensemble). Jank (1910-1970) was born in Germany. His father, Erwin, was a pianist and a singer. His first appearance on stage was at age 10 and in 1935, he moved to Brazil to join his older brother Walter who had been in the country since 1921. In addition to the Brazilian repertoire, Jank also specialized in Beethoven. In 1941, he was the first pianist to perform all of Beethoven's piano sonatas in Brazil. He toured the country with this program, starting in São Paulo and then taking it to Belo Horizonte, Piracicaba, Brasília, Rio de Janeiro, and Salvador. His primary position was at the Carlos Gomez Music Conservatory, where he taught from 1945 to 1970.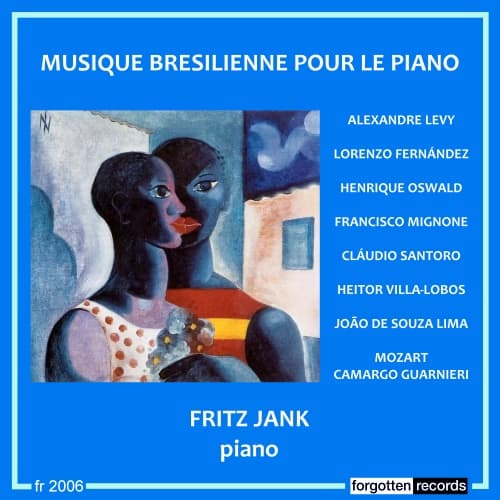 Performed by

Fritz Jank

Recorded in 1959

Official Website
For more of the best in classical music, sign up to our E-Newsletter