At the heart of Schubert's Wanderer Fantasy is a song he wrote in 1816 based on a text by Georg Philipp Schmidt von Lübeck (1766 – 1849). In the song, the wander seeks happiness, but cannot find it anywhere – when he sighs 'where?' the answer comes back, 'There, where you are not, is your happiness.' Schmidt von Lübeck's original title, Des Fremdlings Abendlied (The Stranger's Evening Song) places it in greater perspective – this is the question of every stranger looking for something that may not exist where he's seeking it.
The work as a whole is the product of experimentation on Schubert's part – he links the entire work in four movements through a set of similar rhythms and in the last movement, wraps the whole structure around to bring in elements of the first movement. The work is a challenge for the pianist, and both its virtuosity and structure fascinated the Romantics (most importantly Liszt) for decades.
The Fantasy was commissioned by a wealthy amateur pianist, Emanuel Karl Liebenberg, a pupil of Hummel (who had been a pupil of Mozart's). Schubert recognized that he had written a work that makes greater technical demands on the performer than did the two piano sonatas he wrote after this piece was completed.
The first movement sets the stage with the focus rhythm as the opening gesture. Schubert is careful to offer the pianist large contrasts in the dynamics, tempo, and even the timbre of the piano. The piano in Schubert's time differs considerably from the modern piano: the sound is unified across the keyboard, the sustaining of the notes is longer, and the sound of the modern piano has been described as 'mushier.' In Schubert's time, the notes played at the top or the bottom of the keyboard had a different sound than those in the middle – each voice (right, center, left) had a unique sound.
Franz Schubert: Fantasy in C major op. 15 D 760 "Wanderer Fantasy" – I. Allegro con fuoco ma non troppo
This recording was made in 1949 in the Salle Chopin, Paris, by pianist Orazio Frugoni. Italian-born Frugoni (1921-1997) graduated from the Milan Conservatory in 1939 before going on to further study at the Accademia Chigiana in Siena and the Geneva Conservatory, where he studied with Dinu Lipatti. He left Italy during WWII for the US and made a remarkable debut at Town Hall in 1947. He taught at Eastman from 1952 to 1967 before returning to Italy to become Director of the Graduate School for Fine Arts, Villa Schifanoia, in Florence.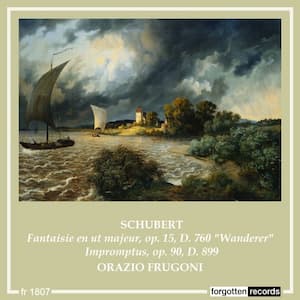 Performed by

Orazio Frugoni

Recorded in 1949

Official Website
For more of the best in classical music, sign up to our E-Newsletter