César Franck (1822-1890) came to Paris in 1835 where he studied privately. When he became a teacher in Paris at the Conservatoire, he taught the students who would go on to define French music at the turn of the century: Vincent d'Indy, Ernest Chausson, Louis Vierne, Charles Tournemire, Guillaume Lekeu, and Henri Duparc. His appointment as the organist at the Basilica of St. Clotilde in Paris lasted from 1858 to his death.
As teacher at the Conservatoire, Franck was unsystematic and the other professors didn't like him. However, this meant that he didn't teach by hard and fast rules, but by a feeling for the music. He also didn't hold the required test for the Conservatoire in the same esteem as his colleagues. His students, however, were his solid supporters. His popularity with the students often caused them to be dealt with poorly by the other professors.
In 1871, he composed the oratorio Rédemption, a three-part work alternating choral and symphonic sections. The performers found it too difficult, and it was set aside after its first performance, but encouraged by his students, principally d'Indy and Duparc, Franck revised the score. He tossed the choral sections and, keeping the symphonic intermezzo, revised it thoroughly and brought it out again as a separate composition in 1874.
It begins lyrically, with a reserved feeling and climaxes at the end with 'ringing and majestic episodes' in the brass. The writing for the orchestra has been described like the writing for an organ: sonorous planes of sound that expand the idea of the work into new dimensions.
This recording, made in 1930 in the Salle Chopin in Paris was performed by the Orchestre de la Société des Concerts du Conservatoire conducted by Piero Coppola. The orchestra was founded in 1828 and reflected the playing taught at the Paris Conservatoire. Its membership was made up of professors at the Conservatoire and their students. Its original intention was to present the radical symphonies of Beethoven, which it did, but its later repertoire was much more conservative. In 1967, the orchestra was dissolved due to financial difficulties and reformed as the Orchestre de Paris. Italian conductor Piero Coppola. (1888-1971) studied at the Milan Conservatory and his first position was at La Scala conducting operas. As a conductor in Paris in the 1920s and 1930s, he made the first recordings of Debussy's La mer and Ravel's Boléro.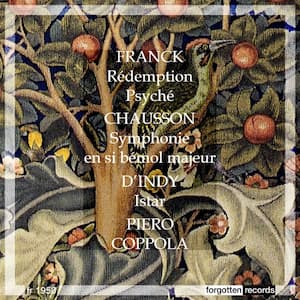 Performed by

Orchestre de la Société des Concerts du Conservatoire
Piero Coppola

Recorded in 1930

Official Website
For more of the best in classical music, sign up to our E-Newsletter