We are most familiar with Carl Maria von Weber (1786-1826) from his opera Der Freischütz. Weber's connections with the theatre began in childhood where he grew up in his father's traveling theatre. His father, uncle to Mozart's wife Constanze Weber, had been, with his brother, a member of the orchestra in Mannheim. Weber went on to write other operas, including Silvana (1810), Euryanthe for Vienna (1822-23), Oberon for London (1825-26) and, at his death, left the unfinished opera Die drei Pintos, which was completed by Mahler some 60 years later in 1888.
In 1807, Weber wrote two symphonies. At the time, he was in Carlsruhe working for Duke Eugen, who was himself a talented oboist. The orchestration of the symphonies matches the staff of the duke's orchestra: a single flute, pairs of oboes, bassoons, horns, and trumpets, but no clarinets. There was the usual string complement, although sometimes the double basses are permitted freedom from being always tied to the cellos.
Weber's Symphony No. 1 has closer ties with his operatic work than with the changes in symphonic form that Beethoven was experimenting with at the same time. Weber's work would have fallen right in the middle between Beethoven's Eroica (1805), his 4th symphony (1807), and his 5th (1807-8).
Just like an opera overture, the first movement starts with a call for attention. The first theme comes in the lower strings and the second theme was for the wind players. Even Weber described the movement as more of an overture than a symphonic movement.
Carl Maria von Weber: Symphony No. 1 in C major, Op. 19 – I. Allegro
This recording comes from a radio concert in April 1951 from Carnegie Hall in New York, with the New York Philharmonic led by Greek conductor Dimitri Mitropoulos. From 1949, Mitropoulos was co-conductor of the New York Philharmonic with Leopold Stokowski and in 1951 became the sole music director. Under his tenure, the Philharmonic expanded their repertoire, both through commissioning new works and by championing the music of forgotten composers, including, at the time, the symphonies of Gustav Mahler, a task that was taken up by his protégé, Leonard Bernstein.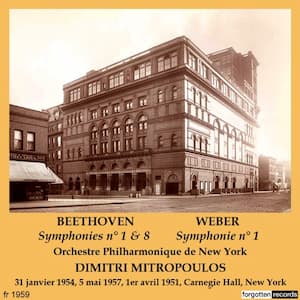 Performed by

New York Philharmonic
Dimitri Mitropoulos

Recorded in 1951

Official Website
For more of the best in classical music, sign up to our E-Newsletter