From its very beginning, Erich Korngold's light symphonic suite Baby Serenade shows us the chaos and celebration that a new baby can bring. Written in 1928, it was a very definite musical response to the birth of either young Ernest (b. 1925) or young George (b. 1928).
Born in Austria, Erich Korngold (1897-1957) was a child star, first with his ballet Der Schneemann, The Snowman, which was produced to great sensation when he was 11, and then with his Second Piano Sonata, which he wrote at age 13 and which was toured throughout Europe by Artur Schnabel. His one-act operas Violanta and Der Ring des Polykrates were put on in Munich when he was 18, conducted by Bruno Walter. His first full opera, Die tote Stadt, The Dead City, was put on in Hamburg and Cologne when he was 23. In 1931, he was professor of music at the Vienna State Academy.
With the rise of the National Socialist regime in Germany, Korngold moved to the US to write for films. His first film track was for the star-studded production of A Midsummer Night's Dream (1935). Starring James Cagney (Bottom), Mickey Rooney (Puck), Olivia de Havilland (Hermia), Jean Muir (Helena), Joe E. Brown (Flute), Dick Powell (Lysander), Ross Alexander (Demetrius), Anita Louise (Titania), Victor Jory (Oberon), and Ian Hunter (Theseus), the firm was initially a failure but now is viewed favourably. Korngold took Mendelssohn's incidental music, written in 1842, and reworked it for a complete sound track. From this beginning, Korngold went on to become one of the most important and influential composer in Hollywood. He was the first composer of international fame to write for Hollywood, but would soon be followed by many more composers of note.
The Baby Serenade shows Korngold before his film career and we can hear in it his skill at humor in music. The work begins with an overture to the chaos that will follow, Overture: Baby tritt in die Welt, Baby Come Into the World. Everyone then agrees in a song, Lied: Es ist ein braves Baby, It's a Good Baby. We then have the very active Scherzino: Es hat auch die schönsten Spielsachen, It Also Has the Most Beautiful Toys. The surprising 4th movement takes us to a simple jazz theme, Jazz: Baby erzählt eine Geschichte, Baby Tells a Story. We close with the quiet at the end of the day, Epilogue: Und nun singt es sich in den Schlaf, And Now It Sings Itself to Sleep (with just a hint of a Christmas carol at the end).
As we can tell from the jazz movement, this is a very sophisticated baby!
Erich Korngold: Baby Serenade, Op. 24 – IV. Jazz: Baby erzählt eine Geschichte (Linz Bruckner Orchestra; Caspar Richter, cond.)

The Bruckner Orchestra Linz has made its name in recent years with its recordings of the music of Philip Glass, under the leadership of their Chief Conductor Dennis Russel Davies (2002-2017). The conductor on this recording, Caspar Richter (b. 1944), has long experience in the Viennese musical world having worked at both the Vienna State Opera and the Volksoper. From 2003-2005 he worked on this recording of the orchestral works of Korngold with the Bruckner Orchestra Linz.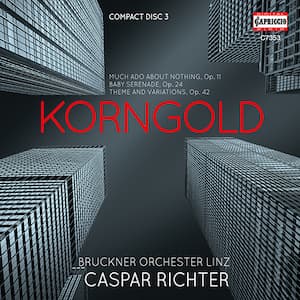 Erich Korngold: Baby Serenade, Op. 24

Performed by
Linz Bruckner Orchestra
Caspar Richter

Official Website
For more of the best in classical music, sign up to our E-Newsletter