Recorder performer Michala Petri lifted the recorder out of the hands of the Baroque performers and has placed it firmly in the modern age. Despite those who sought to get her to play a "real" instrument, she saw the possibilities of the old-fashioned instrument. From the beginning of her formal studies, she's had composers writing for her. And she, in turn, has challenged them to create contemporary music that is as accessible as Baroque music.
One of her major collaborations in the 1990s was with jazz pianist Keith Jarrett, who started her down the road of improvisation, not a skill associated with most classical players, let alone recorder players. And, among all her awards and recognition, we find the International Classic Music Award in 2016 for "Best Baroque Instrumental" for her recording of music by Corelli.
The Puerto Rican composer Roberto Sierra's work Prelude, Habanera and Perpetual Motion started out in 2006 as a work for flute (or recorder) and guitar. Expanded here as a work for recorder and orchestra, the guitar part has been expanded, but still retains in elements such as the pizzicato in the strings, a plucked instrument flavor. The addition of the percussion keeps the Afro-Caribbean flavor.
The first movement places the recorder to the forefront, and then develops its lines through ornamental flourishes – a note isn't held, it's fluttered and given shape. The surrounding sound of the orchestra alternates between impressionistic water colours and haunted echoes.
Sierra: Prelude, Habanera and Perpetual Motion: Prelude (Michala Petri, recorder; Copenhagen Phil; Alexander Shelley, cond.)
The second movement Habanera isn't the show-off piece we might remember from a work such as Carmen, but covers the habanera rhythm with shadowy melodies, first in the trumpet, then in the recorder. We're carried on the rhythm, but the top notes are somewhere in the middle of the sky, while our feet are firmly on the floor.
Prelude, Habanera and Perpetual Motion: Habanera
The final movement sweeps all the previous darkness and shadows away – this is a movement full of motion and virtuosity. Note the entrance of the conga drums and the final cadenza for that highly unusual orchestral duo of congas and recorder!
Prelude, Habanera and Perpetual Motion: Perpetual Motion
The modern recorder, particularly in the hands of Michala Petri, makes us rethink an instrument we might have first encountered in grade school when we were first encountering music. In the hands of Petri, playing the music of Sierra, we have an innovative combination that makes us hear many kinds of music almost for the first time.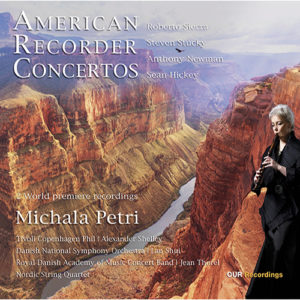 Recorder Recital: Michala Petri

Performed by
Michala Petri
Copenhagen Phil
Alexander Shelley
Danish National Symphony Orchestra
Anthony Newman
Nordic String Quartet and more

Official Website