When asked in an interview what the title of his violin concerto, Tiefenrausch, meant to him, German composer Christian Jost (b. 1963) said it was both his manifesto and a confession. The word refers to the effect of nitrogen on the body – the 'rapture of the deep' – that happens when divers go beyond a 30 m. depth and start to have nitrogen narcosis, often called the 'martini effect' because divers describe it as feeling like drinking a martini on an empty stomach.
In this violin concerto, Jost opens with a solo violin, not the orchestra as is most common in solo concertos. The solo has a very introverted feeling, as though we're being permitted a private view of a violinist at play. The three minutes of silence by the orchestra comes to an end with their tentative entrance – and then their gradual involvement in the texture of the piece.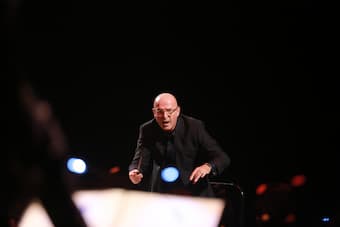 As in many concertos, the relationship between the soloist and the orchestra can be as much adversarial as individualistic. The violin is the individual in the musical crowd, but yet affects the crowd with its musical lines. The orchestra seems to ebb and flow in its effect. The audience is pulled along by both parties, gradually succumbing to the music's own 'martini effect.'
Jost is relying on the curiosity of the audience to follow the two different lines. Sometimes it's the orchestra that calms down and other times, it's the violin. Other times, it's the violin that's determining the action and the orchestra that supplies the support. As the relationship changes between the two, more and more of Jost's world is revealed.
Christian Jost: TiefenRausch (Viviane Hagner, violin; Essen Philharmonic Orchestra; Christian Jost, cond.)


Violinist Viviane Hagner was born in Munich and made her international stage debut at age 13. Her appearances have included work with the London Philharmonic, the Pittsburgh Symphony, and the Singapore Symphony as well as with orchestras in Berlin, Essen, and Bremen. She and her pianist sister Nicole perform as a duo and she also is part of the Joachim-Quartett Berlin.
Christian Jost, composer and conductor of this work, did his training in Cologne and San Francisco. He writes bot symphonic music and operas and in 2009, his opera Hamlet, was voted 'Best First Performance of the Year' in Germany, Austria, and Switzerland. As a conductor, he works with many different German orchestras, including the Bremer Philharmonic, the Graz Philharmonic Orchestra, the Hamburg Philharmonic, the Orchestra of the Komischen Oper Berlin, the Deutsche Staatsphilharmonie Rheinlandpfalz, the Essen Philharmonic, the Radio Philharmonic of SWR and the Deutsche Kammerorchester Berlin.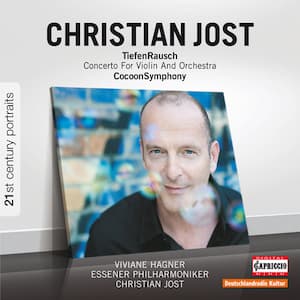 Christian Jost: TiefenRausch

Performed by
Viviane Hagner
Essen Philharmonic Orchestra
Christian Jost

Official Website
For more of the best in classical music, sign up to our E-Newsletter