There is something so undeniably cheerful about the first movement of Mendelssohn's Symphony No. 4. It just sweeps you up and makes you look around and admire the glory and beauty of Italy. For Germans from the cold north, and, indeed, for almost all Europeans, Italy was both 'the glory that was ancient Rome,' and the beautiful land of blue skies and a warm sun.
Felix Mendelssohn (1809-1847) took his grand tour of Europe from 1829-1831, visiting Scotland (see The Hebrides overture and The Scottish symphony), Vienna, England, and, in Italy, Florence, Milan, Rome, and Naples. He started working on the Italian symphony during his Italian trip and finished it in 1933 in Berlin. It was given its premiere in London in 1833 by the Philharmonic Society, with himself as conductor. This was its only performance in Mendelssohn's lifetime.
When Mendelssohn first spoke about the symphony in 1831, he called it the 'funniest piece I have ever made' and in the first movement we can hear his delight at the beauties that surrounded him. There's a kind of songfulness about the whole work, even the more sombre second movement, that seems to make it intrinsically Italian.
Mendelssohn: Symphony No. 4 in A Major, Op. 90 "Italian" – I. Allegro vivace

After he completed the symphony, he held it back from the public to do revisions. He made one revision in 1834 and planned to write other versions of the 2nd, 3rd, and 4th movements, but didn't accomplish this before his death. The work first appeared in print in 1851, three years after his death. Today it is one of Mendelssohn's most popular and performed works.
This recording, made in 1960 by the Philharmonia Promenade Orchestra, was conducted by Heinz Wallberg (1923-2004). The Philharmonia Orchestra was founded in 1945 by EMI's classical record producer Walter Legge and this recording was made during its early days, when the orchestra was regarded as the finest of London's five symphony orchestras. In 1960, German conductor Heinz Wallberg finished two contracts as principal music conductor, with the Augsburg and Bremen orchestras. He started recording with the Philharmonia in 1957 and then went on to conduct in the Vienna and Salzburg festivals and the Munich Opera Festival. From 1964 he was principal conductor of the Tonkünstler Orchestra, and from 1975, with the Munich Radio Orchestra and the Essen Philharmonic. From the mid-1960s to his death, he made an annual appearance with Japan's NHK Symphony Orchestra.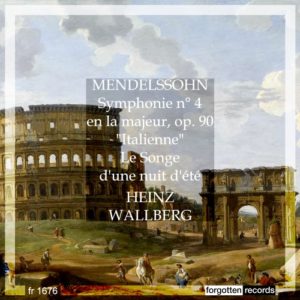 Performed by
Heinz Wallberg
The Philharmonia Promenade Orchestra

Recorded in 1960

Official Website