Henry (Henri) Vieuxtemps (1820-1881), from Belgium, was one of the top violinists of his time. In the mid–19th century, the Franco-Belgian violin school set the standard for the world and Vieuxtemps was one of the leaders. His father was a weaver with a side business as a violin maker and it was from him that the young Vieuxtemps received his instrument. His first public performance was made at the age of 6, which was the start of his career.
He made his concert debut in Paris at age 9, toured Germany in 1833, where he met Louis Spohr and Robert Schumann, who compared him to Niccolò Paganini. He met Paganini the next year while on tour. He toured Europe for the next decade and from 1846 to 1851 was musician at the court of Tsar Nicholas I. He founded the violin school of the St Petersburg Conservatory and with it, the Russian School of violinists while continuing to tour. He returned to Belgium in 1871 to take up a position at the Brussels Conservatory. His most illustrious student was Eugène Ysaÿe. A stroke in 1873 was the beginning of his retirement as a player and teacher until a second stroke in 1879 ended that career. He continued to compose until his death two years later.
Vieuxtemps is best known for his seven violin concertos, but what he brought to the smaller salon pieces is significant, such as this variation set. The violin repertoire had a tendency towards technical brilliance but shallow content and this is what Vieuxtemps changed. His student Ysaÿe quoted him as saying 'Not runs for the sake of runs – sing, sing!'
It's Vieuxtemps' balance of emotional depth with virtuosity that makes his works so significant. This is especially true in this Beethoven variation set. Vieuxtemps extends the idea of the variation that it almost starts to enter the other genre of fantasy on a theme. The work was originally written for violin solo and there are still elements of that in the violin part, such as the writing that sounds like multiple voices. Vieuxtemps added the orchestral accompaniment in 1838 while he was in St Petersburg.
Henry Vieuxtemps: Variations on a Theme from Beethoven's Romance No. 1 in G Major (version for violin and orchestra, reconstructed by O. Adler) (Alexander Markov, violin; Thüringen Philharmonie Gotha-Eisenach; Markus Huber, cond.)


Moscow-born violinist Alexander Markov first took to the concert stage at age 8, performing both as a soloist and in double concertos with his father, concert violinist Albert Markov. He was a Gold Medal winner at the 1982 Paganini International Violin Competition and has worked with the leading orchestras and conductors of the world. Alexander Markov's skill in performing the 19th-century romantic virtuoso repertoire is unmatched and he has been touring playing the entire set of the 24 Paganini Caprices in a single recital, a rare phenomenon.
German conductor Markus Hubert started his career as a boy soprano in the Tölzer Knabenchor. His career took him to orchestral and opera institutions before his appointment in 2019 as Chief Conductor of the Thüringen Philharmonie Gotha-Eisenach.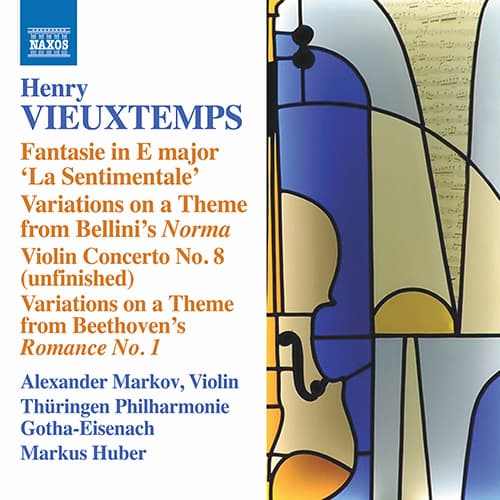 Henry Vieuxtemps: Variations on a Theme from Beethoven's Romance No. 1 in G Major

Performed by
Alexander Markov
Thüringen Philharmonie Gotha-Eisenach
Markus Huber

Official Website
For more of the best in classical music, sign up to our E-Newsletter