After a long hard winter there's nothing like the gentle arrival of spring and after a wet spring, we welcome summer with relief. In the 13th century, a lovely rota, or round, was written that celebrated the summer's arrival, 'Sumer is icumen in.'
One singer starts, another joins, and below it is the 'pes,' a repeated musical figure that accompanies the melody singers. The song describes all the late spring sounds: sheep calling for their lambs, cows for their calves, and the cuckoo singing for the joy of the season.
20th-century composer Mario Castelnuovo-Tedesco (1895-1968) used this 13th century song in his 1935 work Scherzino. Scherzo means 'joke' in German and a scherzino would be a 'little joke,' in a combination of German and Italian. In his piece, Castelnuovo-Tedesco gives us an equally mixed piece – a bright Italian dance between the cello and the piano, tempered with a northern celebration of summer. It's clear that Castelnuovo-Tedesco expects his listeners to know the reference he's giving them.
The combination of old and new makes for a playful exchange between the 2 voices and gives the cello the freedom to play with the older song – it appears with various changes to the melody, to the key, to the rhythm – and yet, in the end, despite the modernizations and changes, we still recognize Castelnuovo-Tedesco's source.
Castelnuovo-Tedesco's love for the cello and its sounds and colours comes through in this piece – from the high delicate notes to the robust lower timbres. The part of the piano is more than simple accompaniment – it is more like a duo partner with a different sense of responsibilities. Together, they make a Scherzino that celebrates the season as much as it celebrates the performing instruments.
Castelnuovo-Tedesco: Scherzino, Op. 82, No. 2 (Enrico Dindo, cello; Alessandro Marangoni, piano)
Italian cellist Enrico Dindo became principal cellist with the La Scala orchestra at age 22 in 1987. At age 32, he won first prize in the Rostropovich competition in Paris and left the orchestra to take up his solo career. In 2014, he was appointed Principal and Musical Conductor of the Croatian Radio Television Symphony Orchestra (HRT) in Zagreb. Enrico Dindo plays a 1717 Pietro Giacomo Rogeri cello (ex Piatti).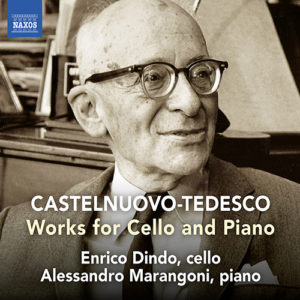 Castelnuovo-Tedesco: Scherzino, Op. 82, No. 2

Performed by
Enrico Dindo
Alessandro Marangoni

Official Website