As a welcome relief to the seemingly unending lines of poor operatic heroines who are victims of poor choices in lovers, relatives (fathers, brothers) who want to marry them off to inappropriate old men, etc., we have Camille and Alice, heroines of Ferdinand Hérold's opera Zampa (1831), albeit one has already died because of a false lover.
The Count of Monza, having seduced, then abandoned Alice, takes to the pirate life under the name of Zampa. Alice dies and a statue is erected in her memory and she is venerated by the locals as a saint. Camille is engaged to Alphonse, the younger brother of Zampa, and to save him from his brother, gives up her engagement. During the celebratory feast, the wedding ring is put on the statue of Alice and Zampa declares her his wife. All laugh, but when he tries to take the ring back off the statue, the statue's hand closes on it.
The wedding between Zampa and Camille goes through as Alphonse is unable to break familial ties by challenging his brother, but just as Zampa is about to take Camille in his arms, Alice appears between them and drags Zampa down to hell.
Clearly the statue who comes to life to vindicate itself against the evil person who caused its death in Zampa is a reference to The Commendatore / Stone Guest in Mozart's Don Giovanni, and according to his biographers, was deliberately used by Hérold out of admiration for Mozart's work.
The opera captured the audience's attention because of all its checkpoints, incorporating 'evil corsairs, beautiful maidens, and statues coming to life in sunny Sicily.' On top of that, Hérold's musical writing presented a unity of story-telling, sometimes passionate, sometimes comic but all hung together in a witty brilliant musical manner. It's as though the Classical 'realism' of Don Giovanni were moved into the Romantic period with the aristocratic pirate, but with scenes placed in a Romantic-style countryside, complete with a Gothic chapel and a derelict tomb.
Hérold: Zampa, or the Marble Bride Overture

This 1958 recording by the Orchestre de l'Association des Concerts Colonne, was conducted by Pierre Dervaux (1917-1992). He studied at the Paris Conservatoire and served as principal conductor of the Opéra-Comique in Paris after WWII (1947-1953). As principal conductor of the Opéra de Paris (1956-1972), he directed the premiere of Dialogues des Carmélites by Poulenc in 1956. He was Chief Conductor of the Concerts Colonne (1958-1992) when this recording was made.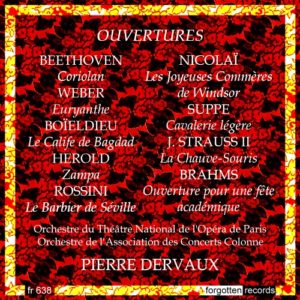 Performed by
Pierre Dervaux
Orchestre de l'Association des Concerts Colonne

Recorded in 1958

Official Website