Classical or jazz? That is the question – Quatuor Ébène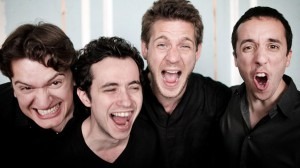 'We are so jetlag!' said Mathieu Herzog, viola player from Quatuor Ébène. Great, I thought. In front of me were four handsome Frenchmen, who studied extensively with the Ysaye Quartet in Paris and won the prestigious ARD International Competition in Munich with five special prizes in 2004. Having just arrived Hong Kong to participate in this year's Hong Kong Arts Festival, they would perhaps much prefer to get a few more hours of sleep than being here. It became a challenge for me to break the ice. The ice began to melt when we started talking about jazz, but the sun really came out when I said one magic word, Sting.

JL: Jenny Lee
Pierre: Pierre Colombet (violin)
Gabriel: Gabriel Le Magadure (violin)
Mathieu: Mathieu Herzog (viola)
Raphaël: Raphaël Merlin (cello)

JL: How did Quatuor Ébène begin?

Gabriel: We met in a conservatory near Paris, when we were about 19. We were students then. Very early on, we decided to put a lot of hours in working as a quartet. Even when we finished our personal studies, we played together because we were passionate. We sometimes practiced more than 10 hours a day, starting at 10am and finishing at midnight.

JL: Quatuor Ébène is famous for playing both classical and jazz music. The New York Times said that you can 'easily morph into a jazz band'. You also won an Echo Award in 2010 with your jazz and world music album, called Fiction. What made you venture into the wonderland of jazz?

Mathieu: Pierre and I play different kind of music. At the beginning, we played jazz for fun when we finished practicing the classical repertoire. Later on, we played jazz as encores in concert and it was very successful. Suddenly, we started playing more and more jazz, especially when Raphaël came in.

Raphaël: I started by making some arrangements to help us to understand the new style, then we began to improvise more. Pierre: Raphaël is a very good jazz pianist and cellist. With the cello, he can really give us the swing and groove. As an arranger, he has a great sense of harmony.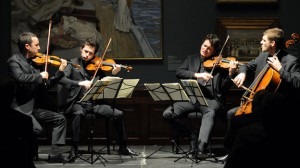 JL: Nevertheless, you tend to keep classical music and jazz rather separate.

Gabriel: We collaborated with classical musicians, like Natalie Dessay, as well as pop bands. But we don't do pop or jazz arrangement of classical music. We do classical and jazz music separately; we don't mix the two. Our objective is to show that in every kind of music in time, there are wonderful things. For example, Stevie Wonder is a genius and deserves the respect that Glenn Gould had; Radiohead has done research which is really as intelligent and fine as that of contemporary composer. The list goes on. What we want to do is to open the mind of classical music audience, as well as bringing people into classical music. Our audience is mostly old people in Europe, white hair everywhere, with 80% of audience aged 65 or above. They probably never listen to other things, except classical music. We think that it is a pity. This is an exchange which we want to make.

JL: Your work reminds me of an artist who I admire, Sting.

Quatuor Ébène: Amazing musician! We love him so much! A common dream for us all!

Mathieu: We would love to work with him. Even just to meet him and say how much we love him. All the musicians who have played with him are great. Gabriel: He does everything with incredible quality. When playing both classical and jazz, he plays them convincingly.

Mathieu: Sting touches jazz, pop and everything. When he touches it, it is more than a touch.

JL: Indeed, very multi-talented! Sting is not only a singer, but also a song-writer, multi-instrumentalist, actor, activist and philanthropist. I also heard a recording of him narrating in Prokofiev's Peter and the Wolf, with the Chamber Orchestra of Europe and Claudio Abbado.

Gabriel: He even worked with the lute player, Edin Karamazov. They did a record together, called Songs from the Labyrinth, featuring music by John Dowland. Some critics said that Sting sings with a pop voice, which is not true. He sings with a throaty voice, which is a particular way of singing used in this period. For me, this recording recreated the perfect ambience of music in the 16th century. I like this recording very much. Sting has integrity and goes 100% in his research when he wants to do something. There are many artists like this in the pop world, Bjork, Prince, Radiohead.

JL: Is there any struggle in jumping between styles? Like changing vibrato, sound?

Mathieu: Of course we adapt to different style. But there are common things, like playing together with beautiful sound. When playing arrangement from the Beatles, Pierre tries to imitate the sound of a guitar with his violin.

Raphaël: Actually, it is as different as playing Haydn and Bartok. In a way, they are just music. It is rather a question of quality and coherence. That's what makes Sting a great artist. Everything he does, as you can hear, is very fine. When he is singing, you can feel that he understands perfectly what he's doing.

Pierre: For example, when we play the arrangement of Sting's All this time, I cannot help myself to imitate his accentuation and what he did, because it's really convincing. Sometimes people say, 'Aren't you afraid of breaking your instrument while playing jazz?' But it is totally inappropriate because we would be more afraid to break them when we play Beethoven, whose music is a lot more demanding. So, playing Beethoven is more dangerous.

Official Website
Ebene Quartet performs Come Together by the Beatles
Schubert : String Quartet No. 13 in A minor (the Rosamunde Quartet), D. 804, Op. 29