Wigmore Hall, Friday 16 June.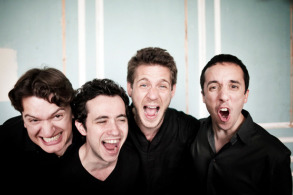 Classical artists venturing into other musical styles rarely works. Listeners and critics are stuffy about classical ensembles taking on popular music, and some projects should probably never have got further than the first meeting. With two very significant classical repertoire releases on the Virgin Classic's label, some would have thought that the Quatuor Ébène was committing artistic suicide, for a project to fill coffers rather than be an artistic statement. Not so, both on disc and live.

First to the disc, built on their tradition of encores of dynamic chamber arrangements, and which opens with the spirited Misirlou from Pulp Fiction. The verve and youthful freedom continues from where they left off with their debut disc of the String Quartets of Ravel, Debussy and Fauré. In the fiery tango and ensuing rumba no one steps on another's toes, and the clean and vibrant playing swings through the unfolding textures.
The quartet brings their entire technical prowess to Nature Boy, where Raphaél Merlin excels in his jazz bass virtuosity (played on the cello), while Pierre Colombet delivers the first of a series of electrifying solos. The next track gives Colombet another opportunity, in Come Together, which features an ingenious spitzicato bowing to effect the percussive shuddering of the original Beatle's track. A wide variety of techniques bring the track to life: harmonics, pizzicato and glissando combine to evocative effect, all crowned by Colombet's improvisation.
On a number of tracks the Quatour are joined by drummer Richard Héry, who propels a number of the tracks forward, allowing all four string players to fill out the harmony, none better so than in Brad Mehldau's Unrequited. With Merlin's jazz bass and impeccably tuned chordings, Wayne Shorter's Footprints is a sensual harmonic exploration of a well-known tune.
The contrasts on this disc to what other classical musicians do with their talents is stark, none more so than in 7-29-04 The Day of from Ocean's 12. The funk and brass of the original is completely reinvented on disc: the funk guitar and solo played by Colombet on a 17th Century Ruggiere Violin, Mathieu Herzog's 18th Century violin 'wha wha guitar', and Gabriel le Magadure's 18th Century violin 'funk guitar'. Exploring the new sounds, textures and playing techniques is every bit the remit of a quartet.
On a disc of continued surprises, Someday My Prince Will Come sees the quartet take on the role of a barbershop ensemble, providing an elegant opening to the number from Disney's 1937 classic Snow White, without any re-gendering of the lyric. The remainder of the song, which also ensnared Miles Davis, is a great example of their wonderful lyricism. Other singers on the disc are operatic star Natalie Dessay, who's Somewhere Over the Rainbow is far removed from the stage, and Stacey Kent, who sings with the same sensual timbres that have made her a worldwide sensation. Fanny Ardant takes on Nina Simone's Lilac Wine with great aplomb and makes a classic chanson of it. The final surprise is Mathieu Herzog's (viola) soulful journey through Bruce Springsteen's Streets of Philadelphia, which is beautifully sung.
At a late-night concert at the Wigmore we were treated to a number of tracks from the disc. Unlike their concert at the Folies Bergères in Paris during May, we did not have the pleasure of hearing Natalie Dessay or Stacey Kent, yet we hardly needed any extra performers. The Quartet and Richard Héry with live sound directed by Fabrice Planchant delivered Nature Boy, Come Together, Footprints, Someday My Prince Will Come, and Streets of Philadelphia. The programme translated well from disc to a full-length concert, and none of the extraordinary playing of the disc was lost.
For a group to step outside their own genre and to succeed is a rare thing. To do it with such originality and verve is astonishing. All I hope is that they continue to deliver their own creative interpretation on disc and in concert.
Official website of Quatuor Ébène
Related videos:
Quatuor Ébène: Un jour mon prince viendra


QUATOR EBENE / Pulp Fiction by avotrecedric
Ebène Quartet performs Ravel from John Zion on Vimeo.
Photo credit: nonstopawesomeness.me