One of the most famous of the waltzes written by Johann Strauss II was his An der schönen blauen Donau, Op. 314. By the Beautiful Blue Danube, or The Blue Danube Waltz as it's more commonly known. It had its first performance on 15 February 1867 but was only a mild success at the time. Eventually, words were added to the waltz and it started a second career as a song for choral groups.
It was given a new life by Polish composer Andrei Schulz-Evler (1852-1905). He trained at the Warsaw Conservatory and then went to Berlin to study with Carl Tausig. He joined the faculty at the Kharkiv Music School in Ukraine and taught there from 1884 to 1904. Of his fifty-some compositions, the best known is his Blue Danube Walz Arabesques, which take Johann Strauss II's work and turns it into a virtuoso extravaganza. In the hands of some pianists, it was a seriously exhibitionist work.
In this early recording by Jan Smeterlin (1892-1967), we can hear all the elegance of late 19th-century combined with a high degree of pianistic expertise. The work has been described as 'floridly decorative…both fiendishly difficult and brilliantly imaginative'. It places tremendous demands on the pianist, requiring not only technical proficiency but also taste so that the ebullient embellishments don't become greater than the work itself.
This was a favourite encore piece for pianists from the early 20th century today. One recording by Josef Lhévinne, made in 1928, the year before this one, went through multiple recording sessions until he was satisfied. He recorded the first side nine times and the second side 12 times to meet his own expectations of perfection.
Adollf Schulz-Evler: Strauss II (Johann), Blue Danube Walz Arabesques

This recording was made in 1929 by Jan Smeterlin (1892-1967) who had been a talented child performer, making his first concert appearance at age seven. His father insisted he study law but he was eventually able to escape that stricture. Eventually, after winning a scholarship to study with pianist Leopold Godowsky in Vienna, he returned to the piano, making his professional debut in 1920. He was a close friend of the Polish composer Karol Szymanowski and made his name performing both his music and that of Chopin.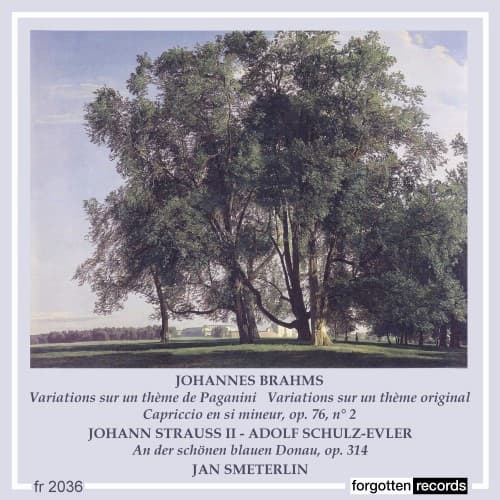 Performed by

Jan Smeterlin

Recorded in 1929

Official Website
For more of the best in classical music, sign up for our E-Newsletter