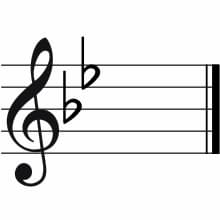 There's a special nobility to B-flat Major. Open and expressive, it's regarded as an uplifting key, full of hope and aspiration. The first movements of Bach's Partita No.1, and Schubert's final piano sonata share this openness and nobility. Meanwhile, Beethoven's 'Hammerklavier', one of the greatest piano sonatas in the key of B-flat, is a work of huge contrasts which ends with one of the most gloriously uplifting fugues in piano literature. Like Beethoven, Rachmaninoff makes huge technical demands on the pianist in his Prelude in B-flat, Op. 23, No. 2. Meanwhile, in Prokofiev's Piano Sonata No. 7, we find music of great agitation and anxiety in the first movement, offset by the warm lyricism of the middle movement, and then revisited, and ramped up in the finale, marked Precipitato.
Bach: Partita No. 1, BWV 825
The Partitas were among the last keyboard works Bach wrote, and they each follow the typical organisation for a suite, with the mandatory allemande–courante–sarabande–gigue framework plus the addition of an opening Prelude. The B-flat major Partita is the lightest, most intimate, attractive and approachable of the six keyboard partitas, and combines grace, nobility and sprightliness, ending with a brilliant, rollicking Gigue whose jaunty hand-crossings are exciting to player and audience alike.
J.S. Bach: Partita No. 1 in B-Flat Major, BWV 825 – I. Prelude (Murray Perahia, piano)

J.S. Bach: Partita No. 1 in B-Flat Major, BWV 825 – IV. Sarabande (Murray Perahia, piano)

J.S. Bach: Partita No. 1 in B-Flat Major, BWV 825 – VI. Gigue (Murray Perahia, piano)

Beethoven: Piano Sonata No. 29 'Hammerklavier'
Dedicated to Archduke Rudolf (the same dedicatee of the Archduke Trio and an excellent pianist), the Hammerklavier Sonata begins with a big declamatory fanfare, which earned this sonata its nickname. The mood of the first movement is bold and powerful, mixing of tension and relaxation and a driving forward propulsion. The Scherzo diffuses this with brevity and humour before a long slow movement in mournful F-sharp minor, so dark that the brilliance and joy of the first movement is utterly obliterated. The finale begins tentatively, but optimistic trills then announce a shift in mood and what follows is a fugal movement full of unrestrained ecstasy.
Ludwig van Beethoven: Piano Sonata No. 29 in B-Flat Major, Op. 106, "Hammerklavier" – I. Allegro (Beth Levin, piano)

Schubert: Piano Sonata No. 21, D 960
The opening movement of Schubert's final piano sonata is noble and expansive. Its gentle hymnlike theme recalls the first movement of Beethoven's 'Archduke' Trio (also in B-flat Major), and it has an otherworldliness that has led some pianists and commentators to suggest that this is a work of valediction, a farewell. The deep bass trill at the end of the exposition only momentarily disturbs the mood.
Like Beethoven's Hammerklavier, this sonata explores a broad range of emotions. After the serenity of the opening movement comes a slow movement infused with a meditative melancholy – a sorrowful barcarolle whose mood is lifted by the middle section in warm A major. The third movement is as bright and sparkling as a mountain stream, its bubbling joyfulness interrupted by a minor key Trio, which sounds like an ungainly landler with its off-beat bass notes. The robust finale, beginning on a bare octave G, turns into a quasi-Hungarian dance, flirting with C minor, before resolving in B-flat and ending with an uplifting, commanding flourish.
Franz Schubert: Piano Sonata No. 21 in B-Flat Major, D. 960 – I. Molto moderato (Krystian Zimerman, piano)


Rachmaninoff: Prelude in B flat, Op. 23 No. 2
Redolent of Chopin's 'Revolutionary' Etude with its florid arpeggios, thunderous chords and indomitable character, Rachmaninoff's Prelude in B flat also recalls the boldness of the opening of the Hammerklavier, though the textures are quite different. It's a work which fully exploits the range and sonic capabilities of the modern concert grand piano.
Sergei Rachmaninoff: 10 Préludes, Op. 23 – No. 2 in B-Flat Major: Maestoso (Boris Giltburg, piano)

Prokofiev: Piano Sonata No. 7
Any notion of B-flat Major as a serene, uplifting key is swept away in the opening and closing movements of Prokofiev's Piano Sonata No. 7. Sometimes called the 'Stalingrad' Sonata after the Soviet city which was under siege by the invading German army at the time of its composition, this is the second of Prokofiev's three 'War Sonatas', composed in 1942 and premiered in 1943 by Sviatoslav Richter. A tumultuous, dissonant and mocking first movement is followed by a slow movement with a beautiful lyrical melody, verging on sentimentality. In the finale, an explosive toccata marked Preciptato, the key of B-flat is constantly reiterated by simple triads. When premiered, this movement was rather aptly named "tank attack", and its relentless, driving movement and percussive textures certainly evoke the sounds and sights of an invading army.
For more of the best in classical music, sign up to our E-Newsletter
Sergei Prokofiev: Piano Sonata No. 7 in B-Flat Major, Op. 83 (Freddy Kempf, piano)