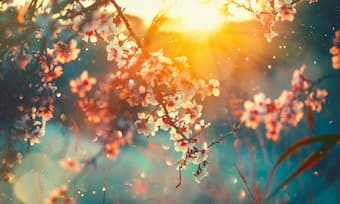 Springtime – the turning of the season, the weather growing milder and the days longer, the first fresh buds of blossom appearing – is fertile territory for musical inspiration, as this selection of piano pieces inspired by Spring or emblematic of its reveal:
Christian Sinding: Rustle of Spring
Perhaps the most famous piano piece about Springtime, this late Romantic miniature suggests nature waking up after the long, dark winter and the hope which accompanies the new season in rippling ('rustling') semiquavers with a flowing melody beneath. It has a Wagnerian flavour in the way the composer repeats phrases a step higher each time, creating a sense of increased energy and drama.
Christian Sinding: 6 Pieces, Op. 32: No. 3. Rustle of Spring (Péter Nagy, piano)

Tchaikovsky: March (Song of the Lark) and April (Snowdrop)
By contrast to the joyous outpouring of the Rustle of Spring, March, from Tchaikovsky's suite The Seasons, reminds us that the chill of winter still lingers in the air, with a poignant melody evoking birdsong – the song of the lark – and an introspective mood. April is more cheerful – a whimsical little waltz which suggests the weather is definitely growing warmer as snowdrops and other flowers appear.
Pyotr Ilyich Tchaikovsky: Les saisons (The Seasons), Op. 37b – III. March: Song of the Lark (Lang Lang, piano)

Pyotr Ilyich Tchaikovsky: Les saisons (The Seasons), Op. 37b – IV. April: Snowdrop (Lang Lang, piano)

Doug Thomas: March from The Seasons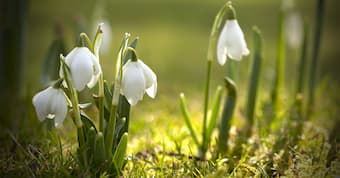 This piece was written for me as part of a project which paid homage to Tchaikovsky's The Seasons. 12 pieces were composed for 12 pianists who submitted their own recordings which were then mastered into an album. Although in a minor key, the mood of this piece, with its chirruping, pulsing rhythm and cascading arpeggios in the upper register of the piano, suggests nature bursting into life in all its colourful glory after the gloom of winter.
Pēteris Vasks: Pavasara Muzika (Spring Music)
Another piece from a suite of piano pieces evoking the seasons, Spring Music by Latvian composer Pēteris Vasks is a 20-minute reflection on that season rather than a depiction of it, though it contains many evocative motifs which suggest birdsong, spring breezes and a sense of the world growing green again after the stark white scenery (the first piece in Vasks' cycle) of winter. And while his White Scenery is a minimalist reflection on winter, Spring Music is florid, virtuosic and at times highly dramatic, before subsiding into slower, more meditative passages.
Pēteris Vasks: Gadalaiki (The Seasons) – No. 2. Pavasara muzika (Spring Music) (Vestard Shimkus, piano)

Schubert (arr. Liszt): Die Forelle (The Trout)
Schubert's 'Trout' Quintet is definitely springlike in its carefree melodies and joyful atmosphere, and this transcription for solo piano by Franz Liszt – with its rippling accompaniments and optimistic character – is a virtuosic evocation of the new season.
Franz Liszt: Schubert – Die Forelle (The Trout), S564/R248 (Evgeny Kissin, piano)

Rachel Grimes: Every Morning Birds from The Book of Leaves
Although not specifically about Spring time, this piano miniature by contemporary American composer Rachel Grimes definitely has a flavour of that season with its opening passage of actual birdsong and tracery of treble notes, interspersed with decorative motifs which suggest the chirruping of birds.
For more of the best in classical music, sign up to our E-Newsletter