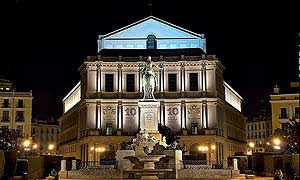 When the Teatro Real reopened on 11 October 1997, it quickly became an internationally acclaimed opera house and an important cultural institution in Spain. A leading venue in the field of music and performing arts, its artistic projects, ranging from the classics to contemporary avant-guard, have reignited operatic enthusiasm throughout Spain. Yet, the history of this venerable institution has been beset by various catastrophes. Since the theatre was opened in 1850 it has suffered fires, explosions and flooding, not to mention the indignity of hosting the 14th Eurovision Song Contest in 1969! In fact, the opera house has earned itself the sobriquet "el maldito" (the cursed) because ill fortune, financial and administrative bungling, and civil war kept it closed for more than 60 years.

The origins of the structure date back to 1738, but it was a Royal Decree by King Fernando VII that got the construction started in earnest in 1817. The first stone was proudly laid in April 1818 and Antonio López Aguado was designated lead architect. But the building was in trouble from the very beginning. A severe lack of funding halted construction for years on end, and when Aguado unexpectedly passed away, all work hopelessly ceased. It seemingly took forever for his successor Custodio Teodoro Moreno to take over the architectural leadership. More funding delays soon slowed progress to a snails pace, and the half-completed building was used for various purposes, including a dance hall, the sleeping quarters of the Guardia Civil, and even to store powder for the army. Queen Isabel II had finally seen enough, and her Royal Order of 7 May 1850 decreed the immediate completion of the project. It took 33 years and 42 million reales before the opera house officially opened its doors with a performance of La Favorita by Gaetano Donizetti on 19 November 1850.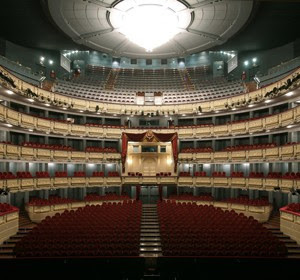 Over the next 75 years the Teatro Real became a major European theatre and showcased some of the best performers of its time, including Julián Gayarre, Giovanni Mario and the famous diva Adelina Patti. Giuseppe Verdi visited the theatre in 1863 to witness the Spanish premiere of his La Forza del Destino, and Stravinsky and Nijinsky watched a performance of Diaghilev's Ballets Russes in 1916. In addition, this venerable house was internationally known for its quirky productions, including an uncut performance of Wagner's Parsifal, with each performer singing in his or her own language! And let's not forget that Wagner's Walküre was performed in Spanish translation. In 1925, however, the real trouble started. Various parts of the enormous structure started to collapse. Built on top of an underground lake, the construction of the Madrid subway significantly raised the water level and the opera house was taking severe water damage. A Royal Order of 6 December 1925 officially closed the building.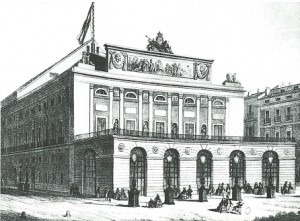 All corners of Spanish society immediately embraced the need for urgent and fast repairs. But as it frequently happens in life, it all came down to a question of money. Political infighting, special interests, and administrative blunders delayed the start of reconstruction works indefinitely. Mind you, Spain also suffered through a brutal and bloody Civil War that pitted the leftist Republicans against the right-wing Nationalists of General Francisco Franco. In the course of this war the Teatro Real was used as a powder magazine leading inevitably to a number of heavy explosions. Construction was once again halted on account of the Second World War, and Spain had no appetite for expensive cultural building projects immediately following. As such, it took over 40 years for the Teatro Real to reopen as a concert hall in 1966. On 13 October 1988 the venue closed once more and in renovations lasting nearly 7 years the building was reconverted into an opera house. King Juan Carlos and Queen Sofia officiated the opening of the reconstructed and remodeled Teatro Real with Manuel de Falla's opera La vida breve on 11 October 1997. Like Phoenix from the ashes, the Teatro Real has once again risen to its former glory; but truth be told, it seemed to take forever!

Gaetano Donizetti: La favorite