Remembered as one of the best and most refined violinists of all time, Fritz Kreisler died at the age of 86 on 29 January 1962. Old age and a persistent heart condition had finally taken its toll, but Kreisler had previously escaped death on a number of occasions. For one, he was a commissioned officer in the Austrian army, and at the outbreak of WWI his regiment received the order to mobilize.
Kreisler took command of the first platoon in the 16th Company, consisting of fifty-five men, two buglers, and an ambulance patrol of four. His regiment was ordered to march to the Russian front in the first months of the war, and Kreisler would subsequently publish a short memoir of his experiences entitled Four Weeks in the Trenches: The War Story of a Violinist. As a musician, Kreisler was particularly interested in the sounds of war, "My ear, accustomed to differentiate sounds of all kinds, had some time ago, while we still advanced, noted a remarkable discrepancy in the peculiar whine produced by the different shells in their rapid flight through the air as they passed over our heads, some sounding shrill, with a rising tendency, and the others rather dull, with a falling cadence."
Fritz Kreisler: Viennese Rhapsodic Fantasietta (Leonidas Kavakos, violin; Péter Nagy, piano)


Kreisler had already won highest honors at the Vienna and the Paris Conservatories before the age of 14, and he was considered the reincarnation of Paganini. At this point in his life, however, he was severely wounded by a Russian bayonet and lay injured in the trench for seven hours. He was eventually transferred to the field hospital, but his injuries were severe enough to be declared unfit for army duty, and he was exempt from further service. Civilian life also proved rather dangerous to Fritz Kreisler. On 26 April 1941, he was involved in a serious traffic accident. While crossing a street in New York, he was struck by a truck at 57th Street and Madison Avenue. Kreisler suffered a fractured skull and was in a coma for over a week. Towards the end of his life, Kreisler was involved in yet another vehicle accident, this time while traveling in an automobile. It has been suggested that he lost his hearing and his vision as a result of this accident, but his deterioration of sight might simply have been the result of cataracts. Archbishop Fulton J. Sheen, visited Kreisler regularly, and he reported that during his last days he "still radiated a gentleness and refinement not unlike his music." Kreisler was interred in a private mausoleum in Woodlawn Cemetery, The Bronx, New York City.
Fritz Kreisler: Romance, Op. 4 (Tobias Ringborg, violin; Anders Kilstrom, piano)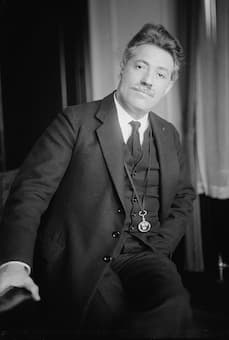 Fritz Kreisler was one of the great musical personalities of the early 20th century. An easy-going and charming personality combined with insightful interpretations and technical mastery to produce memorably recordings and live performances. Throughout his career he was famous for his characteristically sweet tone and expressive phrasing. However, his talent was not confined to performance as he wrote and spoke in seven languages, and collected rare manuscripts, primitive paintings and violins. And what is more, Kreisler was also a highly talented composer. He claimed to have found a stash of unknown manuscripts by important Baroque composers in a French monastery. At least that's what he told his adoring audiences. Turns out that the composer of these crowd favorites had always been Kreisler himself! But when audiences found out that an "unknown" concerto by Antonio Vivaldi had been discovered, they responded with boundless enthusiasm and appreciation.
Fritz Kreisler: Concerto in C Major (In the style of Vivaldi) (Gil Shaham, violin; Orpheus Chamber Orchestra)


While living in the United States, Kreisler composed the musical comedy Apple Blossom for Broadway in 1919. It ran at the Globe Theater for 256 performances, and once he returned to Vienna he followed up with the operetta Sissy for the Theater an der Wien. Detailing the love story of the Bavarian empress-to-be Sissy and the young emperor Franz Josef, the production had 289 straight performances. Although Sissy never went to Broadway, it was picked up by Hollywood as the basis for the film "The King Steps out," that featured a reduced Kreisler score. It should be already obvious that Kreisler rejected the compositional approach of Schoenberg and the Second Viennese School. Yet in his string quartet he was looking for new ways of expressions while retaining aspects of traditional tonality. Possibly remembering his composition lessons with Léo Delibes at the Paris Conservatoire, Kreisler composed his string quartet in 1922. Considered programmatic and autobiographical by a number of critics, Kreisler did tell his biographer that it was "my tribute to my hometown of Vienna."
For more of the best in classical music, sign up to our E-Newsletter
Fritz Kreisler: String Quartet in A Minor (Apea Quartet)