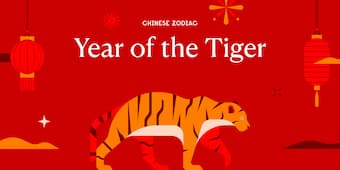 In the twelve-year cycle of animals that appear in the Chinese zodiac, the mighty tiger surprisingly only comes in as number three. When the Jade Emperor invited all the animals of the world to take part in a race, the powerful tiger was considered the big favorite. However, the race path also included a huge river that all creatures, large or small, had to cross. The smart rat persuaded the kind ox to let it sit on its head, and instead of being thankful, it made a mad dash for the finish line to come in first place. The tiger was sure to win until the strong current in the river sent it off course, and so he crossed the finishing line behind the rat and the ox. The tiger is the king of all beasts in China, and if you are born in the year of the tiger, you are said to be a most powerful individual. Supposedly, you are authoritative, brave, and self-assured with a strong moral compass and believe system. Tigers enjoy competition and fighting for a cause, but they can sometimes struggle with "their emotional and sensitive natures that allows them to be extremely passionate."
Tan Dun: Crouching Tiger, Hidden Dragon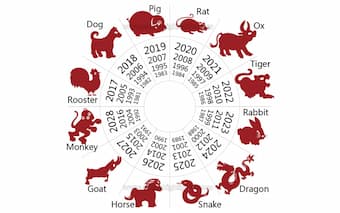 People born in the year of the Tiger are born leaders, who walk and talk assertively and inspire respect. They are courageous and energetic, love a challenge or competition and are prepared to take risks. They are hungry for excitement and crave attention. They can also be rebellious, short-tempered and outspoken, preferring to give orders rather than take them, which often leads to conflict. Tiger people may appear calm but there is often a hidden aggressiveness, but they can also be sensitive, humorous and capable of great generosity and love. As you might well imagine, this combination of authority and sensitivity makes for a rather volatile combination. But first things first, there are several lucky things for people born in a years of the Tiger. Pay specific attention to the numbers 1, 3, and 4, or any number combination containing your lucky numbers. Your lucky colors are blue, gray, and orange, and your lucky flowers are the yellow lily and cineraria. And please don't forget that your lucky directions are east, north and south. As for unlucky things, avoid the numbers 6, 7, and 8 or any combination of these unlucky numbers. Your unlucky color is brown, and please avoid the southwesterly direction at all cost.
Wolfgang Amadeus Mozart: Zaide, Act II: "Tiger wetze nur die Klauen" (Tiger, sharpen your claw) (Judith Blegen, soprano; Mozarteum Chamber Orchestra; Leopold Hager, cond.)

2022 will be the year of the Water Tiger, which only occurs every 60 years. According to some leading astrologers, "tempers will flare, drama and excitement will reign, and crazy dreams can become reality." Apparently, this holds true for love or friendship, work, business, politics and social issues, as "there is no middle ground in 2022; expect to be very lucky or go through extremely difficult periods." Since the element of water is most connected with emotions, "it is the strongest element because it can go around any obstacle and not lose its essential nature." Regardless, those born under the Tiger sign must be careful with their health, avoid food excesses, and get more rest. The year of the Tiger 2022 is shaping up to be extraordinarily lucky for people born under the zodiac signs of the Horse and the Dog, signs that are traditional allies of the Tiger. If, however, you are born under the sign of the Monkey and the Snake, luck will not be on your side in 2022. According to the experts, you "must avoid jealousy and envy at work and in your social circle and focus on improving personal projects."
Chiayu Hsu: 12 Signs "Tiger" (Che-Hung Chen, viola)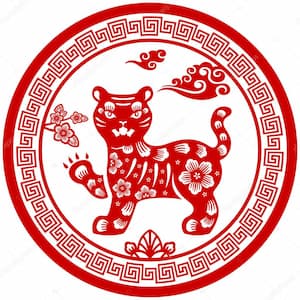 When it comes to money, expect a rewarding year in 2022. Once you are able to control overspending and cutting superfluous expenses, good fortune will follow you throughout the year. Expect to make handsome profits in the stock market and especially crypto. With your money situation under control, consider 2022 to be a lucky year if you are single and looking for true love. Apparently, you will be able to easily identify potential life partners, and if you are already married or in a serious relationship, you should expect some happy periods in 2022. With Covid-19 still roaming the globe, 2022 may exhaust you both physically and mentally. Adequate rest and regular exercises are essential, and meditation and yoga will be useful in controlling anger or speaking before you think. It seems that the year of the Water Tiger 2022 will be a year of commotion and uproar. However, it is also a year to take courageous action. If there is a single word to describe 2022, it is change. Lot's of people will change residence or jobs or both, and for greatest success you must learn to compromise with those who are in a position to help you. In the event, we sincerely wish you a healthy and prosperous Year of the Tiger!
Gong Hei Fat Choy!
For more of the best in classical music, sign up to our E-Newsletter
2Cellos: Eye of the Tiger arr. Hauser/Sulic (2Cellos)