Violinist Alina Ibragimova is known for her gripping performances delivered with grandeur and ease. Above all, her intellectual focus, architectural sweep, and the sheer beauty of her tone are shared in interpretative humility that conveys the emotional depths of the music. One of the most accomplished violinists of her generation, her repertoire spans from the Baroque to the present day, and she performs on both period and modern instruments.
Alina Ibragimova Plays Ysaÿe's Sonata No. 3 "Ballade"
Early Life
Ibragimova was born on 28 September 1985 in Polevkoy, a short distance from Yekaterinburg, in the Russian SSR. However, she is ethnically not Russian but Bashkir. Her family's origins go back to Kazan, the largest city in the Tartar region. As she explained in an interview, "it is a completely different culture with its own language and food, and everything. In fact, the TV in Kazan is in Tatar and the language is not similar to Russian at all—if anything it more resembles Turkish."
Ibragimova fondly remembers her early childhood, specifically the woods and her grandmother's cooking. She has very happy memories of Russia, and although "we lived in a tiny flat with a lot of people and cats, I never felt I lacked anything."
Niccolò Paganini: 24 Caprices, Op. 1, MS 25 (Alina Ibragimova, violin)
A Musical Family
Ibragimova started taking violin lessons from her violinist mother and later became a violin professor at the Yehudi Menuhin School and the Royal College of Music in London. She progressed rapidly, and one year later, started her studies at the Gnessin School of Music in Moscow under Valentina Korolkova. Her mother closely supervised her practice regime, and "always made sure I had another teacher as well so she didn't have to teach me all the time." Ibragimova started her career at the age of 6, playing with various orchestras, including the
the Bolshoi Theatre Orchestra.
Her father Rinat Ibragimova was a professional double-bass player, and when Alina was ten, he was offered a position with the London Symphony Orchestra. Ibragimova remembers that he auditioned with the orchestra and was granted a trial period for a year, followed by a steady contract. It was his appointment that brought the family to London in 1996. Ibragimova remembers that she didn't really want to move to London. "But afterward, I quickly changed my mind… Arriving in Britain, everything was very green, it was the middle of summer and I had my own room in the house."
Ludwig van Beethoven: Violin Sonata No. 9 in A Major, Op. 47, "Kreutzer" (Alina Ibragimova, violin; Cédric Tiberghien, piano)

Studying at the Yehudi Menuhin School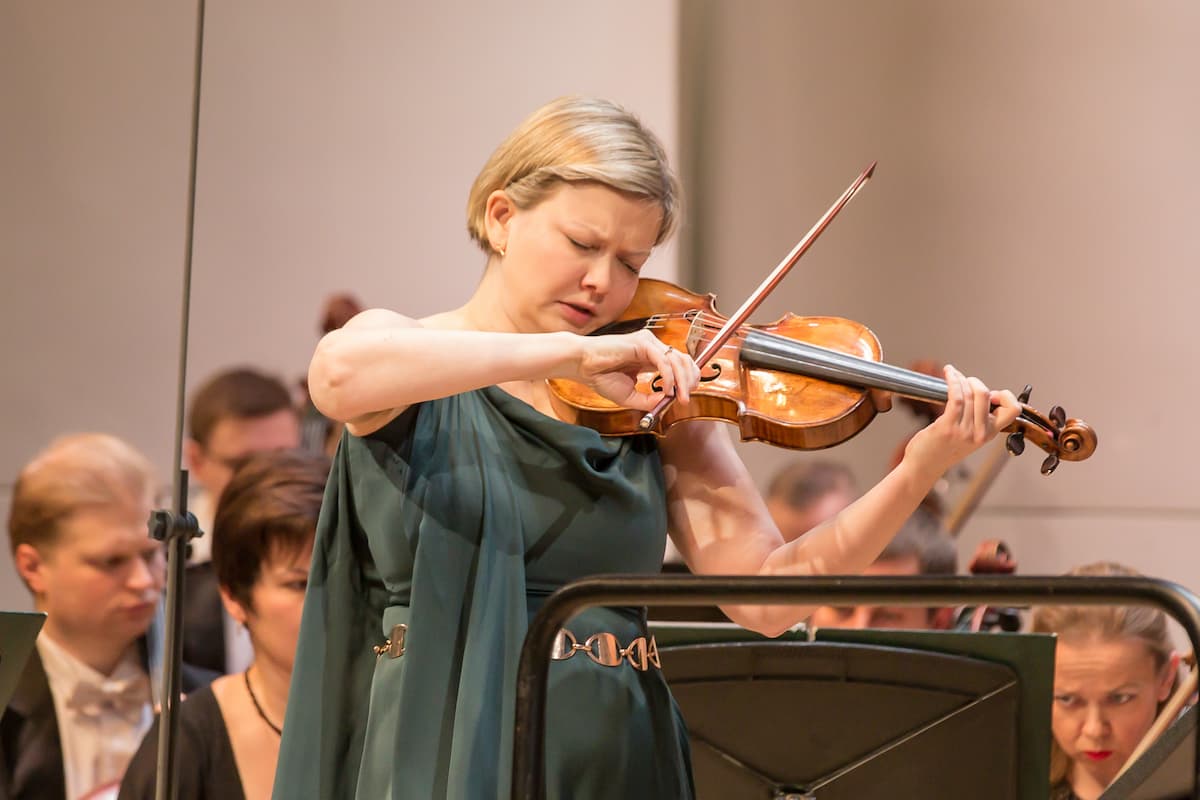 Ibragimova quickly enrolled in the Yehudi Menuhin School furthering her studies under Natasha Boyarskaya. Unsurprisingly, during her early years of study, her mother was her big role model. "She made me listen to a lot of violinists. I remember listening to Menuhin's recording of the Beethoven concerto on a cassette, and Jascha Heifetz, and Vadim Repin. And I guess being a girl, I wanted to be Anne-Sophie Mutter."
Although she had been performing since the age of six, Ibragimova had to overcome her stage fright. As she recalled, "When I was at school, for a while I even got ill before I had to play. Then I decided it was a mental thing – I have to tell myself I'll stop getting nervous. And it worked. If you really tell yourself things at the age of 12-13, they tend to work." Ibragimova furthered her studies with Gordan Nikolitch at the Guildhall School of Music and Drama, and with Christian Tetzlaff in the Kronberg Academy Masters Programme.
Felix Mendelssohn: Violin Concerto in E Minor, Op. 64, MWV O14 (Alina Ibragimova, violin; Orchestra of the Age of Englightenment; Vladimir Jurowski, cond.)

Against the Grain
Ibragimova's early career followed the public path of study and competition, and she won the LSO music scholarship at age 17. However, as Jessica Duchen writes, "she resolutely held out against the glam-up, dumb-down marketing to which some parts of the music business like youthful women succumb." Instead, she started her own rebellion by experimenting with the music of Bach. She recalls, "at the Menuhin school at that time there wasn't so much historical awareness, so when I played a lunchtime concert of Bach with no vibrato, they were all trying to talk me out of it!"
Ibragimova started playing Bach at school when she was about 15 and found it really difficult. "I had a sort of sense of what I wanted, but really couldn't, um, couldn't find it. It was, I really remember it being a struggle." It took her a while to enjoy the purity of sound without vibrato, but the most difficult part "was to balance the personal emotions with the structure and grandeur of the works. That I achieved by simply playing and playing and playing – there was no way around it."
For more of the best in classical music, sign up for our E-Newsletter
Alina Ibragimova Plays Bach's Sonata No. 1 in G minor