Anne-Sophie Mutter was born on 29 June 1963 in the German town of Rheinfelden, Baden-Württemberg. Her parents Karl Wilhelm Mutter and Gerlinde Mutter did not play musical instruments, but they were passionate about classical music. Anne-Sophie took up the piano at the age of five, quickly followed by the violin. Already at the age of six, Mutter won the National Music Prize in both the violin category with special distinction, and the piano duet category with her brother Christoph. Mutter made her first public appearance with the Winterthurer Stadtorchester in 1972. Her teacher Erna Honigberger schooled her in the method of the legendary Hungarian violin teacher Carl Flesch, who created a scale system used by most classical violinists today.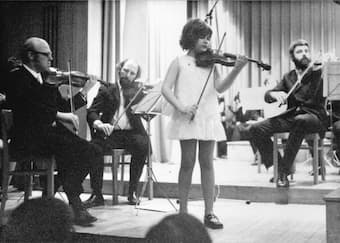 A scholar writes, "Flesch's Scale System included scales on one string, three-octave scales, and exercises for double stops and harmonics. The finger patterns taught in this system pop up throughout the violin repertoire, which makes this an almost essential warm-up for a serious classical violinist." On the death of her teacher, Mutter entered the Winterthur Conservatory in the class of another Flesch pupil, Aïda Stucki.
Mutter/Karajan Play Beethoven's Concerto for Violin and Orchestra, Op. 61
Mutter stopped attending school to devote herself full-time to music. When conductor Herbert von Karajan heard her play in a recital with brother Christoph at the Lucerne Festival, he invited her to Berlin for an audition with the Berlin Philharmonic. Karajan called her "the greatest musical prodigy since the young Menuhin," and he also engaged her for the 1977 Salzburg Whitsun Festival and a recording of two Mozart concertos. Reviewer praised her level of maturity, writing "She played it ravishingly, and above all, she did not play it at all like a child prodigy. Her technique is fully mature." In turn, Mutter credits "Karajan for teaching her to find the common thread that runs through a score, to think the music through to its logical conclusion and impose a sense of direction on it… not simply to juxtapose notes in long overarching paragraphs, but to place them in the service of the musical idea. This is something that has lodged in my memory with particular force." In 1977 Mutter made her British début, with the LSO conducted by Barenboim. Her Berlin début was made with Karajan in 1978, her US début at Washington in 1980 and her Russian début at Moscow in 1985.
Mutter Plays Mozart's Violin Concerto No. 3, K. 261
For almost 46 years, Anne-Sophie Mutter has been a fixture in all the world's major concert halls, making her mark on the classical music scene as a soloist, mentor and visionary. She is described as "a solid player with a secure technique, an ample tone and a strong sense of musical structure. She makes playing the violin look easy and, perhaps as a result, her performances sometimes lack inner tension. She does not vary her tone or her dynamics as much as many violinists, and when she essays a fast tempo her playing is sometimes more remarkable for its technical skill than for any genuine excitement. But if there are more interesting players, few are so consistent." Anne-Sophie Mutter is a highly successful recording artist and has won four Grammy Awards for her recordings of Berg, Lutosławski, Rihm and Penderecki. While she is committed to perform music by traditional composers, she is equally looking towards the future of music. So far she has given world premiere performance of 30 works, including music by Unsuk Chin, Sebastian Currier, Henri Dutilleux, Sofia Gubaidulina, Witold Lutosławski, Norbert Moret, Krzysztof Penderecki, Sir André Previn, Wolfgang Rihm, Jörg Widmann and John Williams.
John Williams: Violin Concerto No. 2 (Anne-Sophie Mutter, violin; Boston Symphony Orchestra; John Williams, cond.)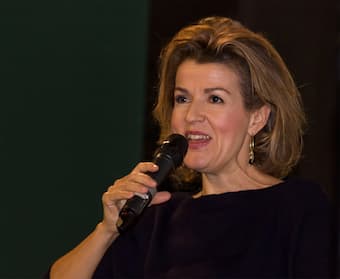 Mutter is not only dedicated to musical causes, but she is deeply engaged with various benefit projects. She is on the board of trustees of the German cancer charity, and was elected the new president of this non-profit organization in 2021. Mutter strongly believes that "Music should grip people, move people, it should tell stories; it should have an impact." To that effect, she founded the "Friends of Anne-Sophie Mutter Foundation in 1997, with a foundation of the same name established in Munich in 2008. The primary objective is the global support of young, highly talented violin, viola, cello and contrabass soloists. "The support of young talents," Mutter writes, "signifies a challenge for all those who, like me, have a particularly heart-felt interest in the future of musical life." With advice and support by an artistic advisory board, Mutter personally selects scholarship students. "Instead of setting fixed and inflexible rules, I am more concerned with giving every student what he or she needs." During the past years, Mutter has repeatedly performed concerts together with the foundation's scholarship students in a project titled "Mutter's Virtuosi." Politically engaged, Mutter had been playing four benefit concerts for the victims of "Russia's war of aggression against Ukraine, which is in violation of international law." Mutter is adamant that "Everyone can and must help now. Words alone are not enough. This is a humanitarian catastrophe, we must stand with the people in Ukraine and with the refugees as well."
For more of the best in classical music, sign up to our E-Newsletter
Mutter Plays Penderecki's Violin Concerto No. 2: Metamorphosen