Violinist Vadim Repin combines fiery passion with impeccable technique, poetry, and sensitivity. To be sure, he can master the most dangerous challenges with an almost provocative serenity. In fact, the great Yehudi Menuhin once stated that Repin is "simply the best and most perfect violinist that I have ever had the chance to hear."
Repin was born on 31 August 1971 in the Western Siberian city of Novosibirsk. Although he lives in Vienna now, he considers Novosibirsk a wonderful city. The third largest city in Russia, Repin grew up with an excellent symphony orchestra, a great opera theatre, and seven other theatres for experimental, children, drama, and circus productions.
Repin recalls that it was his dream as a child to go to the circus at least once a month. And let's not forget three major music schools that make up the Novosibirsk Conservatory, modeled on the Moscow institution for young and talented musical students.
Vadim Repin Performs Khrennikov's Violin Concerto No. 1
Early Fascination With Music
Vadim was immediately fascinated by music. In fact, he asked his mother for musical toys at the age of three. He remembers that "she bought me a little accordion and a flute, and I concentrated on making as much noise as possible." He quickly added a xylophone and other toy instruments to his collection, and started copying the melodies he heard on the radio or that his mother sang to him. It was Repin's mother, a hospital nurse, who actually decided his destiny for him.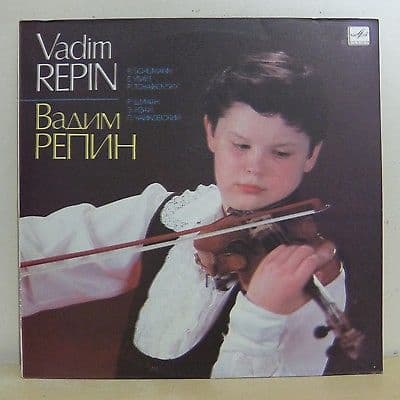 Repin remembers, "She saw how I played with musical toys when I was a baby; how I picked out tunes quickly. It was her idea that I should become a musician. It became her obsession." When Repin was exactly five years old, his mother took him to a music school not knowing what instrument he was going to play. "I had no idea either," he explained, "all there was, was the wish to play music." The violin came to him by chance, since all other courses were fully booked, the only place left was in a violin course. "So the violin became my favourite toy."
Vadim Repin Performs Ravel's Tzigane
Violin Study Under Zakar Bron
Repin progressed rapidly, and after only six months, his violin instructors told his mother that Zakar Bron would be a perfect teacher, and a great guy to study with. "My parents who are not musicians, had no idea who he was, and so I was led to Zakar by chance and recommendation." Repin considered Bron an extraordinary teacher, as he has an exceptional understanding of the fundamentals of violin playing, and he could explain his point very clearly. "At the same time, Bron is a remarkable player. This combination is extremely rare." Bron was not a man of too many words, but with a bit of attention, "it was always straight to the point."
Bron scheduled regular performances for his students on stage in front of other people so that they could develop a taste for the concert platform. Repin soon understood what his profession was all about. "It's not about practising hard all the time," he says, "it's about creating something on stage, about having a relationship with the public. You cannot expect a child to practise for five or six hours a day unless they understand the goal, the emotions you get back when you perform."
Vadim Repin Performs Ysaye's Sonata for solo violin
Classmate of Vengerov
Vadim Repin was not the only violin prodigy from Novosibirsk. In fact, he grew up sharing a teacher with his friend Maxim Vengerov. As Repin explains, "Maxim's presence did a lot of good for me, and vice versa. Being dramatically better than everybody else usually slows you down. You can think too much of yourself and become complacent. But knowing that nearby there is someone who is so wonderful makes you work even harder." To be sure, they both share unimpeachable techniques, but they are vastly different players. A critic writes, "Vengerov is a showman, who takes your breath away, while Repin is more of a poet; he plays like someone who has lived a little."
Repin started giving concerts between the ages of seven and nine, and he won the International Wieniawski Competition for Young Violinists in Poznan at age 11. In 1985, at the age of fourteen, he made his débuts in Tokyo, München, Berlin, Helsinki, and a year later in Carnegie Hall. Not to be outdone, Repin won the Queen Elisabeth Competition in Brussels in 1989, becoming the youngest-ever winner of that event.
For more of the best in classical music, sign up for our E-Newsletter
Vadim Repin Performs Tchaikovsky's Violin Concerto in D Major, "Queen Elisabeth Competition 1989"