Widely regarded as one of the greatest pianists of all time, Arthur Rubinstein (1887-1982) combined a prodigious technique with musicianship, scholarship, and a richly poetic temperament. One of the greatest Chopin interpreters of his time, his warmly outgoing and the beneficent lyricism of his phrasing, "are expressed in tones of richest and most gorgeous hues." Rubinstein set the ideal standard for Chopin interpretation, imbuing virtuosity with "an inimitable spirit of civilized yet passionate eloquence and aristocratic poetry."
Family Background
He was born in Łódź, then part of the Russian Empire on 28 January 1887 as the youngest of seven children of Felicja Blima Fajga (née Heiman) and Izaak Rubinstein. In his autobiography he writes, "Born eight years after the last-born, I was utterly unwanted by my parents, and if it hadn't been for the enthusiastic persuasion of Aunt Salomea Meyer, my intrusion into this valley of suffering might have been prevented." His grandfather Heyman first settled in the city, and he raised a family of eight daughters and two sons, including Rubinstein's mother. His father had come from a northern city and operated a little plant to make hand-woven cloth.
Arthur Rubinstein Plays Schubert, Brahms, and Chopin
"For sentimental reasons," his name was to be Leo, but his brother Ignacy protested vehemently. "His name must be Arthur. Since Arthur X, a neighbor's son plays the violin so nicely, the baby may also become a great musician." As Rubinstein explains, "And so Arthur I was called… In later years, my manager Sol Hurok used the h-less 'Artur' for my publicity, but I sign 'Arthur' in countries where it is common practice, 'Arturo' in Spain and Italy, and 'Artur' in the Slav countries."
Rubinstein's First Music Experiences
His first musical memories came from gypsy musicians appearing in the courtyard, "singing and dancing with their little dressed-up monkey's while the so-called orchestra man played many quaint instruments." When his eldest sister started to take piano lessons, he became an attentive listener and soon was able to play first with one hand, later with both, "any tune that caught my ear." His musical talents greatly impressed his family, as "none of them, including grandparents, uncles, and aunts, had the slightest musical gift. At the age of three and a half, his father bought a small fiddle for his son, "which I promptly smashed to pieces, and got spanked in return."
Frédéric Chopin: Nocturne No. 5 in F-sharp Major, Op. 15, No. 2 (Arthur Rubinstein, piano)

Encounter With Joseph Joachim
Recognized as a child prodigy with perfect pitch, the family decided that something had to be done. As such, his uncle Nathan Follmann wrote to Joseph Joachim in Berlin and told him every detail of Arthur's musical talent. Joachim replied very kindly and he invited the boy to visit him in Berlin. Rubinstein was taken to Joachim and remembered "The great master was about sixty, tall, rather heavyset, with his face almost hidden by a gray, artistic mane, a round beard, a thick mustache, whiskers, and very bushy eyebrows. Even his huge ears were richly adorned with hair." Joachim apparently was highly suspicious of infant prodigies, so he began a thorough examination. Rubinstein recalled, "First, he asked me to call out the notes of many tricky chords he struck on the piano, and finally, he made me play back the beautiful second theme of Schubert's Unfinished Symphony after he had hummed it. I had to find the right harmonies, and later transpose the tune into another tonality." He later told Arthur's parents, "This boy may become a very great musician. He certainly has the talent for it… When the time comes for serious study, bring him to me, and I shall be glad to supervise his artistic education."
Karol Szymanowski: 20 Mazurkas, Op. 50 (excerpts) (Arthur Rubinstein, piano)
Rubinstein's First Piano Lessons
Back in Łódź, young Rubinstein enjoyed two years of a completely happy, and carefree childhood. His first piano instruction with Mrs. Pawlowska only lasted three months, but in subsequent lessons with Adolf Prechner, he made good progress by learning pieces by Mozart, Mendelssohn, and Bach in a short time. As Rubinstein remembers, "one day a committee from some institution came to see my parents asking if I could take part in a concert to raise money for their charities. All agreed, and I immediately started to prepare a program for my debut as a concert pianist.
First Public Performance at 7 Years Old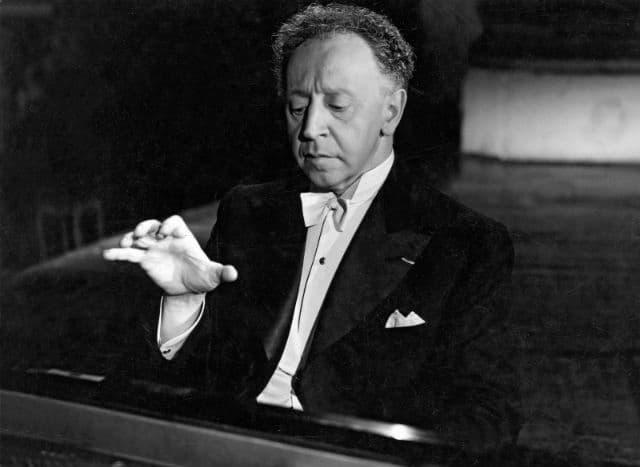 On 14 December, the seven-year-old Arthur Rubinstein first appeared before the public. "The concert was splendid," he recalls. "A young lady played the Mendelssohn concerto for violin, a man sang a few songs, and then it was my turn. I performed my Mozart sonata and two pieces of Schubert and Mendelssohn in the happiest mood, and was rewarded with a warm ovation from the audience mainly consisting of my family and their friends." After a brief interlude in Warsaw, Rubinstein moved to Berlin to continue his studies, and he gave his first performance with the Berlin Philharmonic in 1900, at the age of 13.
For more of the best in classical music, sign up to our E-Newsletter
Arthur Rubinstein Plays Chopin's Piano Concerto No. 2 in F minor, Op. 21