Manuel María de los Dolores Falla y Matheu was born on 23 November 1876 in Cádiz, a city and port in the autonomous community of Andalusia. His father José María Falla came from a family of merchants from Valencia, a province rich in Mediterranean influences and culture. His mother María Jesús Matheu came from the northern Catalan province, located along the Pyrenees mountains and the French border. Manuel was the oldest of five children, and he was essentially home-schooled. Scholars have suggested "since he had very little contact with other children during his developmental years, his shyness and a tendency to withdraw are possibly due, in part at least, to the lack of development of socials skills normally acquired during childhood." Falla took first piano lessons with his mother, who was an accomplished pianist, and from the local teacher Eloisa Galluzzo. Falla writes, "Eloisa Galluzzo, a friend of my dear mother and more-over an excellent pianist, took charge of my musical initiation."
Manuel de Falla: Serenata andaluza
Manuel de Falla had a strong interest in literature and journalism and initially decided to become a writer. As he wrote to Roland-Manuel, "my vocation, despite my love for some music (not all!) always inclined towards the literary side (prose, not verse)". He wrote a number of short stories and crafted two handwritten magazines El Burlón and El Cascabel, which he created with friends between 1889 and 1891. He imagined a utopian world, which he populated and governed while defending it from the world outside. Falla's biographer relates, "for six years Manuel carried out the various duties involved in governing his metropolis. The municipal council, the newspaper editors, the academicians and the administrators of societies entered his Eden by the wardrobe door. Musicians too, for there was a magnificent theatre in Colón, where the triumph of the day was El Conde de Villamediana, an opera seria of which Manuel de Falla was both the celebrated composer and the acclaimed conductor."
Manuel de Falla: "Tus ojillos negros" (Your little black eyes) (Montserrat Torruella, mezzo-soprano; Manuel Garcia Morante, piano)


When his family moved to the capital city of Madrid, Falla became an external student at the Madrid Conservatoire. At the age of seventeen, he decided to become a composer. He writes, "from that moment, a kind of conviction—both timid and profound—urged me to leave everything in order to dedicate myself entirely to the study of composition. And that conviction became so strong that I was even afraid of it, for the illusions it awoke within me were well above what I felt capable of doing. I say that not from a purely technical point of view […] but [with regard to] INSPIRATION, in the true and highest sense of the word: that mysterious force without which… nothing genuinely useful can be achieved, and of which I felt incapable." He studied the piano with José Tragó, a student of Georges Mathias, and he began to perform his own music in public, both in Cádiz and in the prestigious Madrid Athenaeum.
Manuel de Falla: Allegro de concierto (Miguel Baselga, piano)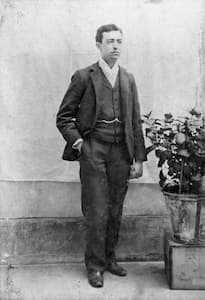 Falla soon became aware that he would not be able to make a living by composing and performing salon music. Although he was a skilled pianist, he never achieved the virtuoso status of Granados, Albéniz or Viñes. During his days at the Madrid Conservatory, Falla took composition classes with Felip Pedrell, a music scholar who had earlier pointed Isaac Albéniz towards Spanish folk music. Pedrell was not particularly successful as a composer, but as a writer, editor, historian and teacher he made it his life's work to "rehabilitate Spanish music by resurrecting the double aspect of folk song and artistic tradition." Pedrell wrote, "the character of any music which is truly national is to be met with not only in folk song and in the instinctive music of primitive epochs, but also in works of genius and in the masterpieces of the great periods of art." His manifesto For our Music was published in Barcelona in 1891, in which he set forth his theories on national music. The publication was widely read throughout Europe in a French translation, and under the influence of Pedrell's teaching, Falla decided to double his efforts in composition.
For more of the best in classical music, sign up to our E-Newsletter
Manuel de Falla: La vida breve (Life is Short)