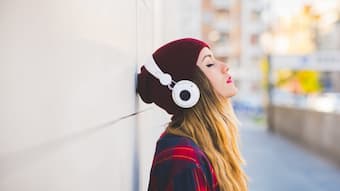 What's your "guilty pleasure music"? That is, music or a composer that you'd rather keep quiet about in case your highbrow, classical music-loving friends look down on you.
Mine is Philip Glass – although I don't feel remotely embarrassed about liking his music, especially his operas and piano music. But he's a composer who vociferously divides opinion and taste.
The term "guilty pleasure" is often used to describe music that is supposedly so bad that people feel embarrassed listening to it or music that has little artistic merit but has a strong entertainment value. I don't think either of these definitions is applicable to the music of Philip Glass, although I know there are plenty of people out there who would argue against this! In the world of classical music, guilty pleasure music is often music which is popular – Ravel's Bolero, Tchaikovsky's 1812 Overture, Strauss Waltzes – but that doesn't mean it lacks artistic merit, and the aforementioned pieces certainly entertain! And some classical pieces have perhaps unfairly earned the title "guilty pleasure" when they have appeared in popular culture in films or advertising; for example, Hamlet cigars used Bach's Air on the G string in their commercials from 1966-1997, Delibes' Flower Duet from the opera Lakmé was used by British Airways used to create an enduring corporate identity, or the slow movement from Dvořák's New World Symphony which was used to advertise Hovis bread).
In fact, I don't count any of the music which I love as a "guilty pleasure". This is music for my pleasure; if others enjoy it too, that's fine, but I'm not ashamed of my musical tastes. We should discard the idea that there is such a thing as objectively "good taste" in music because musical tastes as are individual as the person who listens to that music.
Our tastes are shaped by our upbringing, exposure to different types of music, experience and maturity, and we like what we like for a multitude of reasons.
Here is a selection of pieces which might be considered classical "guilty secrets":
Johann Pachelbel: Canon and Gigue in D Major (Academy of Ancient Music; Christopher Hogwood, cond.)

Richard Wagner: Die Walküre, Act III: Ride of the Valkyries (London Philharmonic Orchestra; Mark Elder, cond.)

Maurice Ravel: Bolero (Slovak Radio Symphony Orchestra; Kenneth Jean, cond.)

Johann Strauss II: The Beautiful Blue Danube
J.S. Bach: Overture (Suite) No. 3 in D Major, BWV 1068: II. Air, "Air on the G String" (arr. for 4 cellos) (La Quartina)
Pyotr Il'yich Tchaikovsky: The Nutcracker Suite, Op. 71a: III. Dance of the Sugar Plum Fairies (Slovak Philharmonic Orchestra; Michael Halász, cond.)
And here's one of my favourite pieces by Philip Glass, from his soundtrack to the film The Hours.
Philip Glass: The Hours – The Poet Acts (Chris Laurence, double bass; Michael Riesman, piano; The Lyric Quartet; Nick Ingman, cond.)

For more of the best in classical music, sign up to our E-Newsletter