When Anna Netrebko first appeared on the stage of the world's most famous opera houses during the 2002 and 2003 season, she was called "the biggest sensation to hit the opera world in years."
Described as one of opera's hottest young stars, Netrebko took the world by storm with her luxuriously smooth and distinctive singing voice, and her fashion-model appearance. However, her early years were anything but flashy.
Anna Netrebko in Tosca (2019)
Childhood and Tribulations
Netrebko was born on 18 September 1971, near the southwestern Russian city of Krasnodar, near the Black Sea. Her father was a geologist and her mother a telecommunications engineer, and young Anna took the performing arts right away. "Dancing, acrobatics, athletics, singing, I knew that I was going to be on stage, and everybody knew it as well," she once said in an interview. Her family weren't professional musicians, "but there was always music at home. I was constantly doing house concerts with my friends," she explains. "Whenever my parents had a party, we'd announce, and now, a concert, and they'd all go, Oh, not again!"
Netrebko explained that she had "a lovely childhood, but perestroika created hunger and crime and misery. These are still the biggest problems, as the big industries closed down and nobody in the provinces had jobs and they did nothing but drink vodka." During her high school years, she devoted herself to gymnastics and ballet and also sang in her school choir. By 1988, however, she enrolled at the St Petersburg Conservatory but the period of economic upheaval was not really favorable for the pursuit of a career in the arts.
Anna Netrebko Sings Norma, "Casta Diva"
Career Decision
Initially, Netrebko wanted to become an actress, and she took vocal lessons to distinguish herself from other young performers at the school. However, this secondary skill quickly turned into a main interest. According to Netrebko, "everything changed when I went to the theaters and saw opera performed, and of course, the first time I started to sing on the stage. Opera theatre is much more interesting and complicated. All the skills are combined."
However, it was not an easy decision to make, as for many years she was told that she'd be lucky to get a part in the chorus. She was frequently told that her voice was too small and did not carry. Netrebko never paid attention, and all the criticism "came in one ear, and it went out the other." Even when she would give a bad performance, in her mind, she would just take it in stride and stubbornly follow her calling. As she explained, "I always thought, OK, I will work. I will work. I always knew I had to perform, I had to have an audience. That was my big passion."
Anna Netrebko in War and Peace (2000)
The Cinderella Legend: The Beginning of Netrebko's Career
During the early 1990s, Netrebko took a job as a janitor at the St Petersburg Mariinsky Theater, so that she could attend operatic performances and see and hear Russia's leading singers in person. "I could see rehearsals and performances. I was in the theater twenty-four hours a day." A legend started to be circulated that she was discovered by star Russian conductor Valery Gergiev while scrubbing the floor. Gergiev supposedly turned her into a superstar overnight. Of course, this was nothing more than a Cinderella story.
The real story is less of a fairy tale. As a conservatory student, Netrebko did some janitorial work to earn money, and in 1993 she won the important Glinka Vocal Competition in Moscow. That in turn led to an appearance at the Bolshoi Opera concert organized by the leading Russian mezzo-soprano Irinia Arkhipova. Only at that point did Netrebko properly audition at the Kirov, and for Gergiev. Gergiev remembered her and supposedly quipped, "Oh, you can even sing?"
Anna Netrebko debut as "Susanna" at the Mariinsky (1994)
Her International Career on the Operatic Stage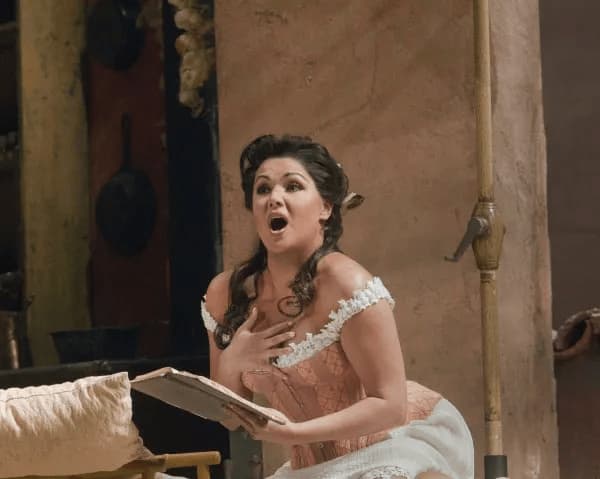 Under Gergiev's guidance, Netrebko made her operatic stage debut at the Mariinsky at the age of 22, as "Susanna" in Le nozze di Figaro. Her stunning performance in that role brought her to San Francisco on 48-hour notice. Gergiev had decided to cast her in the title role in Glinka's Ruslan and Lyudmila. That role was perfect for Netrebko's sparkling and ebullient voice. "It was my first year in the Mariinsky," Netrebko says, "it was a big, big role and it was a big success. So that was where my international career started."
Netrebko always described Gergiev as "my godfather in music," and the conductor still continues to be a central figure in her performing life. As Netrebko explained in an interview,
"he has been so supportive and he always believes in me, and the working relationship has become much stronger over time." There was no denying that Netrebko was hurtling towards intergalactic stardom at a pace seldom seen in the classical music world, and while her voice became more seasoned, her favourite roles are still the most dramatic. "The roles that don't have a strong character are not usually my best," she admits. "I really need to find something powerful inside the character. I'm trying to choose roles in which I can show everything that I can do."
For more of the best in classical music, sign up for our E-Newsletter
Anna Netrebko in Ruslan and Lyudmila (1995)