Leonid Kogan, born on 14 November 1924 in the Ukrainian city of Dnepropetrovsk, is considered one of the foremost Soviet violinists in the 20th century. Somewhat in the shadow of his compatriot David Oistrakh, Kogan's playing is characterised by pure intonation and technical mastery. He brought a highly intellectual and objective style to his performances, relying on a leaner tone, tauter vibrato, and a tightly controlled temperament. He was a member of the famous Gilels/Kogan/Rostropovich Trio, with a substantial number of contemporary works dedicated to him.
Leonid Kogan Plays Glazunov's Meditation for Violin and Piano, Op. 32
The Early Years
Leonid Kogan was born in the Ukraine during a period of extreme economic hardships. His parents were both photographers, and his father an amateur violinist. Leonid showed an early interest in music, and by the age of three he was fascinated by the sound of the violin. He started formal music lessons at the age of 6, studying with the Auer student Philip Yampolsky. The teacher-student relationship was not a great match, as Leonid almost gave up after only two lessons.
As he later remembered, "I cannot say that in my childhood I played with pleasure, as I only enjoyed playing pieces at which I had to work least." As he recalled, "for the first 2 months I could not play for more than five minutes without interruptions. My left hand felt full of lead, and my head much heavier." Nevertheless, he later relates that his first teacher inspired in him "a love of work, which I think is most important. Also he gave me a very solid foundation, as he himself was an excellent violinist."
Pyotr Ilyich Tchaikovsky: Violin Concerto in D Major, Op. 35 (Leonid Kogan, violin; Paris Conservatoire Orchestra; Constantin Silvestri, cond.)
To Moscow
Kogan had a successful public recital in Kharkov at the age of 10, and the family decided to move to Moscow to further his studies. Leonid was accepted as a student in the Central Music School in Moscow, a school for special musical talent connected with the Moscow Conservatory. His teacher was the noted pedagogue Abram Yampolsky, no relation to Philip nor a student of Auer. Kogin practices about three hours a day while studying full time on his general education.
Moscow also afforded Kogan the chance to hear Jascha Heifetz in a number of concerts in 1934. As he recalled, "I attended every one, and can remember until now every note he played. He was the ideal artist for me." At the same time, Jacques Thibaud heard Kogan perform, and he predicted a great future for him. To be sure, Kogan progressed rapidly and he later explained, "I play scales every day, it is just as important as eating or sleeping or brushing my teeth."
Pablo de Sarasate: Caprice basque, Op. 24 (Leonid Kogan, violin; Andrey Mitnik, piano)

Moscow Début and Beyond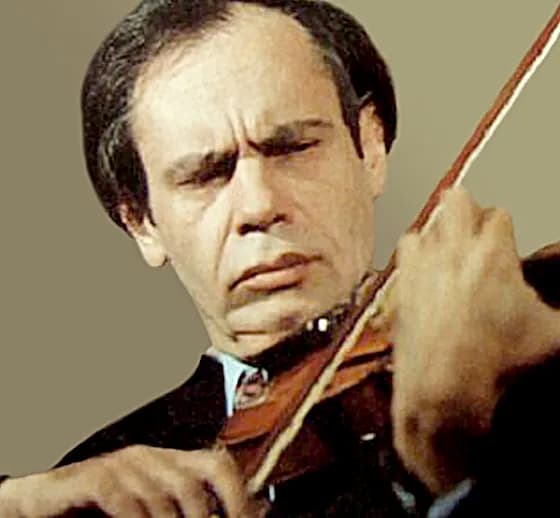 Kogan made his Moscow début at the age of 17 with the Moscow Philharmonic under Karl Eliasberg, playing the Brahms Violin Concerto. He soon gave concerts throughout the USSR while still a student. Always relying on a solid technical foundation, he once remarked, "I do not recognize the three-octave scale, but only the four-octave. The reason is that the four-octave in the final octave gives an opportunity for a violinist to develop fully the dexterity of hands on the upper positions. For the sake of sonority and correct intonation it is necessary to master all the highest positions on the fingerboard."
Kogan was still a student when he was declared the co-winner of the first prize at the World Youth Festival in Prague. His international breakthrough took place in Brussels in 1951, when he won first prize at the Queen Elizabeth Competition in Brussels. According to the jurors, his interpretation of Paganini's first concerto was "performed with stunning virtuosity and in a classical fashion," and included a masterful interpretation of the Sauret cadenza.
Leonid Kogan Performs Brahms' Violin Concerto in D Major, Op. 77
Legacy
Kogan was a slim, wiry man with deeply set eyes and prominent eyebrows. Observers suggested that he performed with a hint of pain in his face, "which grew more pronounced as the years passed." There was a rumour that he suffered from some illness, possibly chronic ulcers. And while his stage presence was unusually sober, devoid of body or facial mannerism, Kogan did experience bouts of nervousness before performances.
Soviet authorities strongly promoted David Oistrakh, calling him a heart-warming poet of the violin. Since Kogan shunned publicity by nature, his glittering blend of crystalline lyricism and explosive virtuosity was somewhat over-shadowed by his great friend. Oistrakh was sixteen years older than Kogan, but he always treated him as a colleague. Considered one of the greatest representatives of the Soviet School of violin playing, Kogan recorded roughly 160 compositions, masterworks and miniature, plus some 40 re-recordings, comparable to the discographies of Stern and Milstein.
For more of the best in classical music, sign up for our E-Newsletter
Leonid Kogan Performs Paganini