Operatic tenors enjoy a special status in the world of music. We all still remember the illustrious Enrico Caruso, Beniamino Gigli, and Richard Tauber from the first half of the twentieth century. However, as a critic wrote, "the most versatile and incidentally, the most recorded tenor in the world is Nicolai Gedda," born on 11 July 1925 in Stockholm, Sweden.
He made his debut when he was still a student in 1952 when nobody could be found to cope with the title role of Adam's Le Postillon de Longjumeau. Instantly successful, Gedda was quickly singing leading roles in Milan, Paris, Rome, and Vienna, "and recording operas and operettas with sopranos such as Victoria de los Angeles, Maria Callas, and Elisabeth Schwarzkopf." Gedda was speaking and singing in seven languages, and he commanded a truly astonishing range of vocal and idiomatic styles.
Nicolai Gedda Sings Adam's Le Postillon de Longjumeau, "Mes amis, écoutez l'histoire"
Harry Gustaf Nikolai Gädda was born out of wedlock to Olga Gädda and a half-Russian father. He was raised by his aunt Olga and his adoptive father Michail Ustinov, a singer in a Don Cossack Choir and cantor in a Russian Orthodox church. When Nicolai was two years old, his father first heard him humming. "He taught me a Russian folk song and gradually went on to increase my repertoire of Russian folk tunes."
A couple of years later, his father received two offers of permanent employment, and the family traveled to Germany. They first went to Berlin but found conditions "dirty and ugly," and quickly moved on to Leipzig. His father was appointed cantor and conductor of the choir of the Memorial Church, and he started to teach his son how to read music at an early stage. "I could read music by the age of five and had almost perfect pitch, and my father accompanied my singing on a small harmonium."
Nicolai Gedda/Bozena Kinasz Sing Mussorgsky's Boris Godunov, "Love Duet Act III"
Nicolai started to sing with the small church choir, and his father instructed him in the Russian language, religion, and mathematics. Nicolai remembers, "I soon forgot the Swedish I had known, as Russian was spoken at home, Russian or German outside among my friends" He was not a particularly eager student, "but I really enjoyed singing. I cannot recall ever being unwilling to sing. From the start, singing was a means of expression as natural to me as speech. When I stood there in the choir and sang, I experienced a kind of liberation, mixed with a feeling of happiness and self-esteem."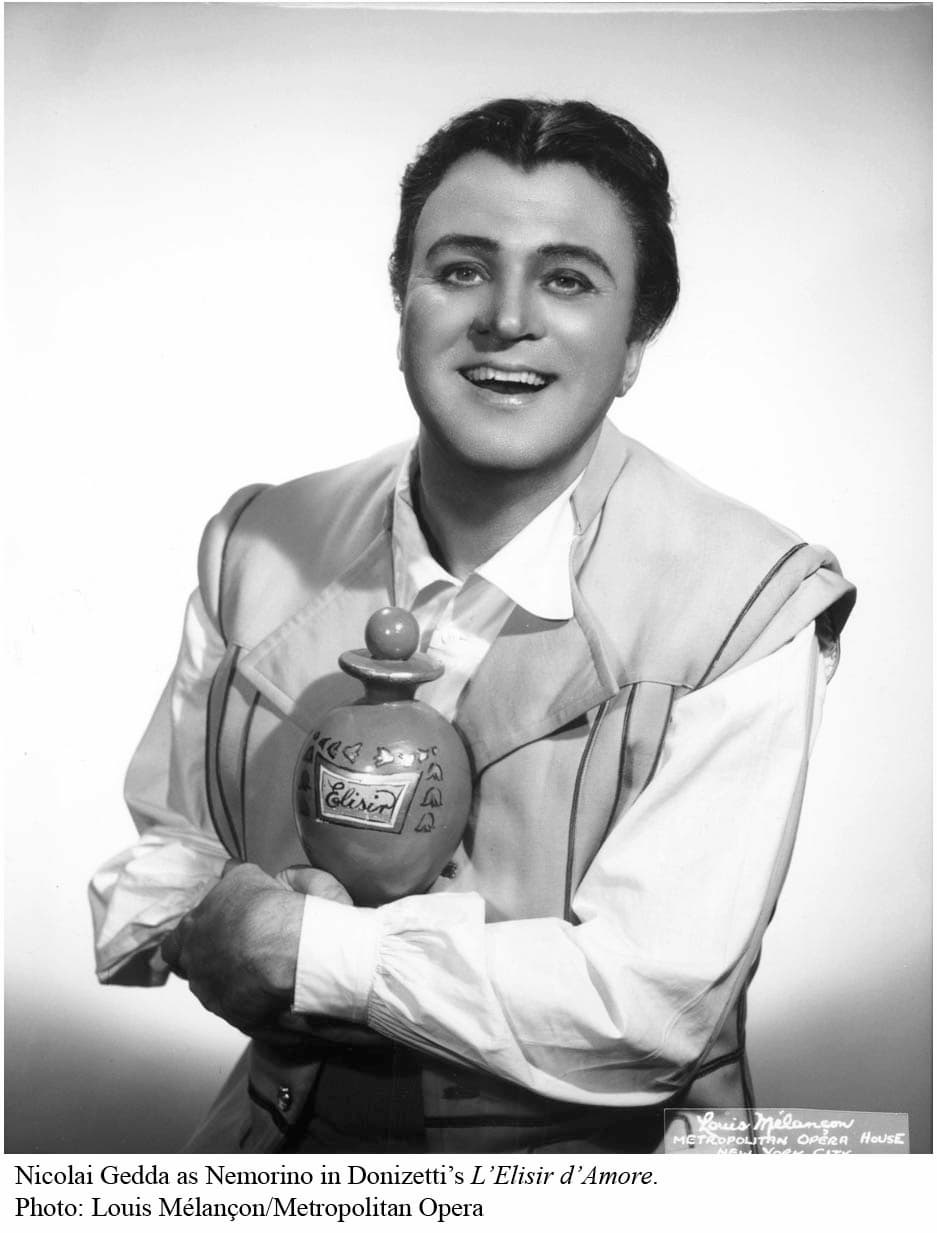 After Hitler had been elected Chancellor of Germany in 1933, the Gedda family returned to Sweden and Nicolai attended Katarina Secondary School, where he impressed the music teacher with his abilities. Nicolai remembered, "One Christmas my teacher asked me to sing a well-known carol in church, and my mother listened with tremendous pride to my first solo public performance. I received 5 crowns, and I gave the coin to my mother."
Nicolai Gedda Sings Puccini's La bohéme, "Che gelida manina"
When puberty hit, all singing came to a complete stop for two years. "One day I woke up and suddenly could not hit a single pure note, all that came out was a croaking sound. However, my voice came back when I was seventeen." Growing up was an enormous emotional struggle for Nicolai, and a huge financial struggle for his parents. To support his family, Nicolai took on odd jobs during the summer, ranging from delivery boy for a hardware store to stock boy in a department store.
Nicolai was not interested in continuing his studies at the university but instead found a position with a small provincial bank. "The manager discovered that I had an A in singing, and assigned me to the check accounts section." Nicolai continued to sing a lot in his spare time, always with great enjoyment, "although neither I nor my parents at this point had the faintest notion that I would turn to singing professionally." All this changed when Nicolai asked a bank customer, a member of the Royal Opera House Orchestra, for a good singing teacher. Gedda auditioned for Carl Martin Öhman, credited with discovering Jussi Björing, and an enthusiastic Öhman took Gedda as his student without payment.
For more of the best in classical music, sign up for our E-Newsletter
Nicolai Gedda Sings Kálmán's Gräfin Mariza, "Komm Zigan"