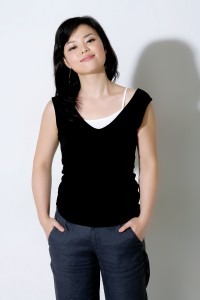 The first time I heard pianist Sa Chen's performance was back in the 90s, in Newcastle. It was also the first time I ever heard of her name. Though she just won the fourth prize at the Leeds International Piano Competition, Sa Chen walked on stage with such confidence that I was captured even before hearing a single sound. Her playing was as powerful as her presence. That moment, I knew that she was a star in making. From Leeds, she conquered more competitions on the road to stardom: the Chopin and the Van Cliburn International Piano Competitions. In this interview, I asked not only her musical path and inspirations, but also whether this tigress ever gets tired.

JL: Jenny Lee
SC: Sa Chen


JL: You studied piano in both China and in Europe. Do you think that the teaching style is different between the Chinese and the westerners?

SC: Naturally it's different in many ways. I am lucky to have the most suitable teachers in different period of my life. In my early childhood, I learnt how to "drive" this instrument with arm-weights and flexibility. I was also taught to sing through the piano. Later on, in London and Hannover where I studied, I could appreciate the rich culture there. It was also very important to learn to be independent and to develop my character.

JL: When was the significant turning point in your career?

SC: The first tuning point happened when I was16. It was the Leeds Piano Competition, in which I played with Simon Rattle. At that point, I decided to become a professional pianist. That event shaped my direction in life.

JL: Both your parents were members of an art troupe in the People's Liberation Army. Are they supportive of you being a pianist?

SC: Extremely supportive! They are both artists. I am grateful for my parents being so wisely supportive and for giving me the artistic gene.


JL: You learnt from Dan Zhaoyi, Joan Havill and Fu Ts'ong. What did you learn from each of them?

SC: I had formally studied with Dan Zhaoyi, Joan Havill, and Arie Vardi, and had many master classes with Fou Ts'ong and Menahem Pressler. For Fou Ts'ong, he is an inspirational artist who has a very personal way of interpreting music.

JL: Who are your favourite pianists?

SC: Many… Richter, Arrau, Gould, Pletnev, Pogorelich and the list goes on.

JL: I heard you playing a piece by Rachmaninov once and I was amazed by your power. Would you say that you have an affinity with Russian music?

SC: I would say so. There is certain charm in Russian music, which is very attractive to me, particularly its lamented atmosphere, intensity, and tuneful melody.

JL: What is the most difficult part in being a concert pianist? How do you overcome it?

SC: As a professional pianist, you have to overcome the occasional tireness towards performing. I have tried several ways, like staying away from the pieces which you are performing, or doing something on the day of concert which you would not usually do. If it still cannot help, you have to bravely walk on stage and just do it; surprise might be there, waiting for you!

JL: Apart from playing the piano, do you have other passion in life?

SC: Yes! Photography and sometimes, writing.


Chopin Pianoconcerto No.1 Romance-Larghetto
Autumn Moon Over the Calm Lake
Chen Sa will be performing at the coming Hong Kong International Chamber Music Festival.